Halloween is just around the corner, and there's always a cosplay event popping up from time to time, so I'm sure most of you are raring to craft up your creative costumes! Whether you're buying supplies for your DIY stint, or you're following one of my costume guides and making the outfits based on everyday pieces, some Paypal cash will definitely help, right?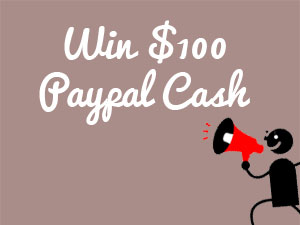 To participate, all you need to do is make a couple of easy mouse clicks. Good luck!
Enter for a chance to win $100 Cash.
One of the raffle entries requires you to simply follow me on Pinterest:
And without further delay, here's the actual Rafflecopter form!
* This giveaway was a collaboration with Giveaway Promote and some other awesome sites / blogs.
And on a quick note, I'd like to know: What would YOU do with the $100 Paypal if you were the lucky winner? Comment below with your answer!