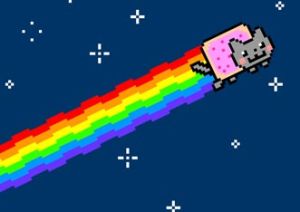 Sometime last 2011, a Pop Tart cat flew through YouTube and left rainbow trails, captivating the whole kitty-loving audience. This critter remains popular till this day. Show your love for this pixelated cutie by dressing up as Nyan Cat on your next costume party! I give you ideas on how to carry the look while still looking fashionable.
Dress up as Nyan Cat!
For extra effect, apply some light pink makeup on your cheeks. For your bottom, just wear a pair of gray leggings or jeans.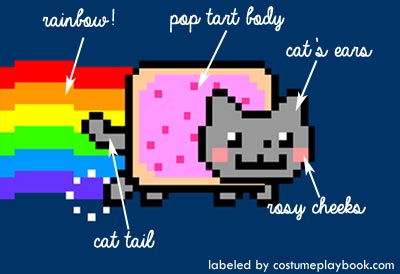 Cat Ears

The first thing you need is a pair of cute gray cat ears like this one! This pair even has that light pink detail on the inside. Super cute!

Pink Pop Tart Graphic Tee

For the Pop Tart body, you have several options. The first option is to wear this Pop Tart graphic tee which has a few subtle sprinkle details

Plain Pink V Neck Tee

The other option is to get a plain tee, then just go DIY and add some sprinkles by using a fabric pen (link to a set of fabric pens below)

Fabric Pens

Use these to add some dots to your plain tee above

Pink Polka Dot Top

You can also wear a pink polka dot top that would look fashionable even after the costume party

Nyan Cat Costume Hoodie

Here's another alternative: wear a whole hoodie suit based from Nyan Cat! It's got the giant pixel pop tart body, the flag, and the Nyan cat head too!

Rainbow Flag

For the rainbow trail, you can bring a rainbow flag like this one and wave it around. OR, you can tie it around your neck like a cape and run around the costume party leaving your own colorful trails

Cat's Tail

A cat tail would give you that extra touch to your costume

Cat Paws

Some paws would be great too!

Nyan Cat Hoodie

I couldn't help it. I just had to feature this one! It's just super adorable. I'd wear it everyday if I could!
And now… let's watch the Nyan Cat video for the umpteenth time!