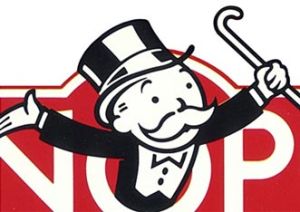 Dress up as the richest board game character, Mr. Monopoly. Add more fun to your outfit by bringing some props, like a cane, cigar, or wads of Monopoly cash. For some added comic relief, you can also easily show up as a bankrupt version of Mr. Monopoly by just turning your front pocket inside out!
Dress up as Mr. Monopoly
The Monopoly board game has been around for ages and their mascot has become an iconic character. The mascot's name is Mr. Monopoly though he was actually formerly known as Uncle Rich Pennybags.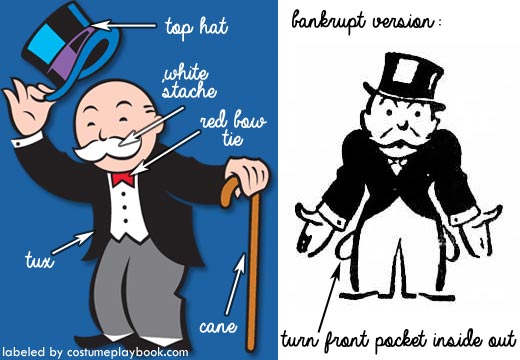 Wig Cap

Mr. Monopoly is always wearing a top hat on, so you don't really have to buy a bald kit. You can, instead, buy a very cheap wig cap just to keep your hair in place while you wear the hat.

Black Top Hat

The board game mascot proves he's a gentleman's gentleman with his dapper top hat

Mustache Kit

Of course, we can't forget his mustache! It's one of the most distinctive elements of his look. This one in particular contains several mustaches. You'll need the white one for this particular costume; you can keep the others for future costumes, or days when you'd like to look extra cool

Big White Mustache Plush

Want something more comical? Consider sporting a 2″ tall white mustache for that exaggerated effect!

Black Tuxedo Costume

If you have a very nice black suit and a pair of dress pants at home, then by all means, just reuse that. Otherwise, you can just buy a more affordable piece just for costume purposes.

Red Bow Tie

For that pop of color, wear a red bow tie

Black skirt for Ladies

Want to dress up as Ms. Monopoly? You can substitute the dress pants with a nice black skirt, like this one, which is priced under 10 bucks. Then, get a nice fit black blazer. Be sure to still wear a red bow tie – it will look super cute!

Walking Cane

A prop to bring is the Monopoly Guy's walking cane.

Monopoly Money

Another great prop to bring is a wad of Monopoly money, which you can also stuff into a money bag (be sure they pop out so they're noticeable). The money bag prop can be seen below

Money Bag

Flaunt your wealth even more with a money bag!