Dress up as the king of radio hosting and don his signature suspenders! Larry King is best known for his "Larry King Live" show on CNN.
Dress up as Larry King
Larry King's outfit is pretty simple. Most likely, you already have a necktie and button down shirt in your closet, so the only thing left to buy are suspenders, glasses, and a mic for your prop. You can wear your favorite pair of jeans to go along with your look so long as it's the decent kind you'd wear to interview important people on national television.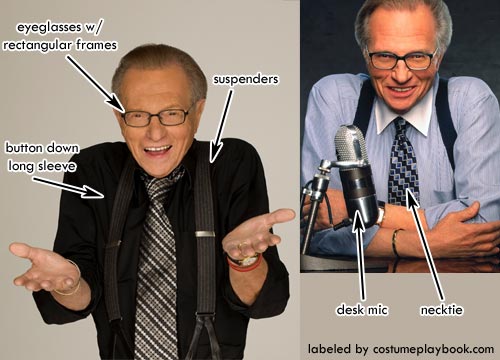 Gray Wig

This is optional, if you'd like to dress up as the older, present day Larry King for that touch of comic relief. The present day Larry King keeps his hair brushed back and gelled up.

Suspenders

Think of Larry King and what's the first fashion piece you remember? The suspenders of course! I don't think anyone has pulled off the suspenders as good as he did. He actually wears different colored suspenders depending on his outfit. One one day, he might don a pair of bright red suspenders over a black button down. Sometimes he'd stick with a black / gray motif. So go ahead and get creative with the colors!

Eyeglasses with Rectangular Frame

He wears a pair of eyeglasses with a rectangular frame

Microphone on a stand

Larry King's distinct microphone is actually a ribbon microphone but this can be very expensive. If you're just bringing one as a prop, go ahead and buy something cheaper. I chose this one because it can actually be used with your computer.
Additional prop idea: Wear an ID with the CNN logo on it