Wacky Races (Hanna-Barbera)
Dress up as Peter Perfect
Peter Perfect picked an impeccably perfect, proper, piece pegged after horse riders! (My lame attempt at a tongue twister) To dress up as Peter Perfect, your peg is an equestrian. The gentleman dresses up in perfect riding clothes and zooms through the course, though instead of a horse, he rides on a race car.
This is a cute couple costume idea – Dress up as Penelope Pitstop and Peter Perfect. Your names even start with the same initial, how adorable is that!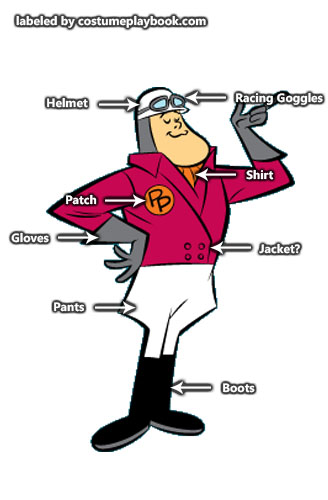 White Half Helmet with Goggles

First you need a half helmet, preferably with goggles already on. This fits the bill perfectly

Orange Turtleneck Sweater

Second, wear an orange turtleneck to give that nice neck detail that Peter Perfect's character has.

Red Double Breasted Coat

A coat like this one will make you look quite dapper – and it's fashionable enough to wear on any cold day! For the "PP" patch, simply use basic colored paper (or a printout) to create the patch and stick onto your coat with ordinary tape.

Riding Pants (Breech)

Get yourself a nice pair of white riding pants. If you can find something with an exaggerated wide thigh area (like the traditional jodhpurs) even better! But this pair should do the trick

Rubber Riding Boots

You cannot ride a horse… err a race car without proper boots! These boots complete your equestrian look.

Gray Racing Gloves

Peter Perfect also has a perfect pair of gray racing gloves.
Other Wacky Races Characters
Click on the other wacky racers below to view their costume guides: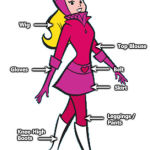 Penelope Pitstop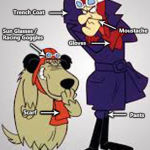 Dick Dastardly and Muttley