Table of Contents: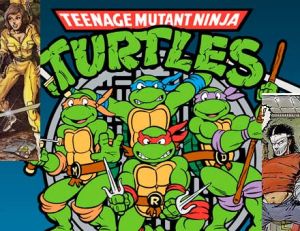 Dress up as one of the heroes in a half shell! Or if you'd prefer to stay human, dress up as the reporter, April O' Neill, or the vigilante, Casey Jones. It's the perfect time as a CGI TMNT reboot is coming! Cowabunga!
Essential Pieces for all the 4 Ninja Turtles
All the turtles have similar aspects in different colors – the eye mask and the turtle body. Before you choose which turtle you wish to go for, here are the basic pieces you will need
Turtle Mask

This set comes with 8 masks already so grab 3 more friends to dress up as your turtle buddies! These are officially licensed Nickelodeon goodies and are a better alternative to uncomfortable whole-face masks. Plus, you can eat easily with these!

Turtle Costume T-Shirt

Don't want to wear a bulky body suit to the party? No problem! Wear a costume tee shirt instead.

Green Track Pants

If you want to look like a turtle from top to bottom, you might want to consider wearing a pair of green pants too.

Three Finger Gloves

This is pricey, but if you'd like that extra ninja turtle touch, you may want to consider it – it's a Nickelodeon prop which has sounds and is motion activated
Dress up as Leonardo
Growing up, I always wanted to be Leonardo. You can chalk it up to my bossy nature, I guess – haha! Since Leonardo was the leader, I liked him the most.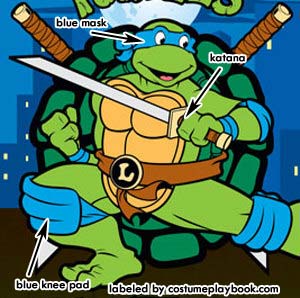 Blue Bandana

Instead of a knee sleeve / cap, you can just buy a couple of blue bandanas to tie around your knee, wrist, and elbow.

Toy Sword Prop

My favorite part: bring along a toy sword with you!
Dress up as Donatello
Donatello is the turtle genius. Compared to the other turtles, he has the least intimidating weapon of all – the staff. But in his hands, it becomes a deadly weapon, too!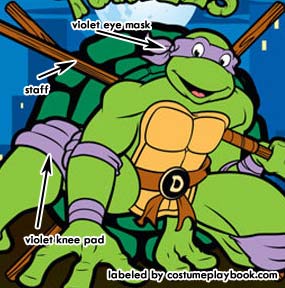 Violet Bandana

This shade of violet closely resembles Donatello's. Tie around your knee, elbow, and wrist!

Bo Staff

Donatello's weapon is a staff. To be honest, his weapon was the least of my favorites growing up. I guess because it wasn't shiny and pointy haha!
Dress up as Raphael
Raphael is cool but rude. "Gimme a break!" Rude or not, he has a really cool weapon – the sai. Plus, the color red is always a nice distinct color to wear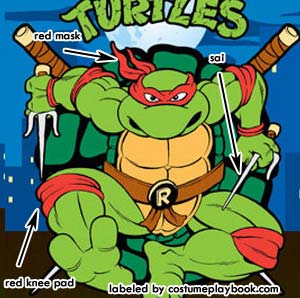 Red Solid Colored Bandana

Again, buy a bandana for your knees, elbows, and wrists, this time in the color red

Sais Prop

I love Raphael's weapon – the sai. It has a very cool Japanese touch to it and looks very deadly too!
Dress up as Michaelangelo
Michaelangelo is the party dude who carries nunchucks with him. He is also the one who loves pizza the most, so you can go to your party with a pizza box (contents optional – you can always say you were staying true to your pizza-chomping character)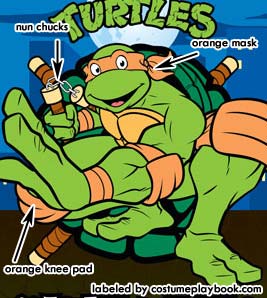 Orange bandana

The color orange is perfect for someone with a bright personality like Michaelangelo

Nunchucks Prop

The party dude has a seriously cool weapon too – Nun chucks!
Dress up as April O'Neil
April is the turtles' friend, and a reporter. She has a very distinct outfit – a yellow jumpsuit and is always portrayed as being sexy. In the upcoming 2014 movie reboot, she will be played by Megan Fox. What do you guys think: Yay or no way?
If you want a subtle couple costume idea, you can dress up as Casey and April as they are frequently paired together
Short Brown Hair

April has short brown hair and is a bit wavy in some parts so you can fluff up your hair a bit.

Yellow Jumpsuit

This yellow jumpsuit was designed specifically to mimic April's outfit and comes with the white belt as well!

Yellow Button Down Shirt with 2 Pockets

If you'd like to just recreate April's look using pieces you can wear on an ordinary day, you can get this very fashionable sheer button down shirt

Yellow Cargo Pants

Pair it with this pair of sporty cargo pants

White Belt

A simple white belt will complete your look!

White Combat Boots

I've always wondered about her shoes. Are they white rain boots to keep her protected even during the rainy weather? Are they go-go boots for a more fun look? I decided on this pair of white combat boots. It has a very edgy look to it and it's flat, which would be a more practical choice for a reporter who's always on the go!

Microphone

Bring along a microphone with you. As a reporter, you don't know when a story might break – like a bunch of turtles running about!
Dress up as Casey Jones
Ah, Casey Jones. If I had a favorite TMNT character, it would be him. He's not your typical character. He's a vigilante for starters, and vigilantes are always mysterious and interesting characters, in my opinion. His outfit is also fun to piece together, and the fact that he has a golf bag full of sporting goods turned weapons adds a sense of humor to the whole outfit. If you want a subtle couple costume idea, you can dress up as Casey and April as they are frequently paired together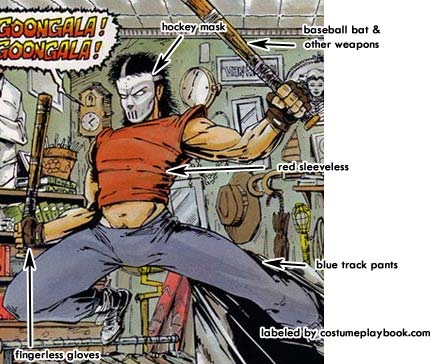 Long Black Wig Men

Casey sports a fairly long black hairdo like this one

White Hockey Mask

Like Jason, he is a source of horror for many. Thankfully, he's only a source of horror for the bad guys!

Red Tank Top

He is portrayed as wearing a red sleeveless shirt. Perhaps to show off his muscles better and intimidate the baddies?

Blue Sweatpants

A pair of blue sweatpants is a comfy piece to wear when you're out fighting crime.

Golf Bag

Here comes the funny part: he brings a golf bag along with him, full of weapons you don't need a license for – baseball bats, golf clubs, cricket bats, and hockey sticks

Foam Baseball Bat

You can bring a real baseball bat with you, or a foam one so you don't have to carry heavy stuff with you

Brown Fingerless Gloves

Gloves make him look even more bad-a$$
Teenage Mutant Ninja Turtles CGI Movie Reboot (2014)
They have yet to release a trailer for the reboot, but casting news are already out!

Someone in the comments section of the video mentioned letting James Franco play Casey Jones. Hmmm… what do you think?
Here are screenshots of Megan Fox as April. She wears a yellow jacket only. So: no jumpsuit?