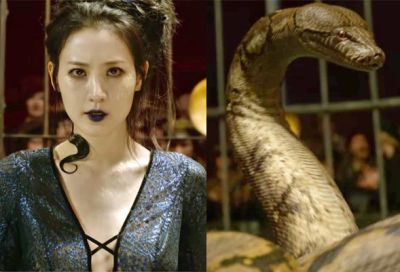 The snake, Nagini, is a woman! Shocking revelation! The full details of her outfits haven't been shown yet, but here's what I can gather so far. This is, by no means, an exact replica, but I think the basic gist of the costume is here
Dress up as Nagini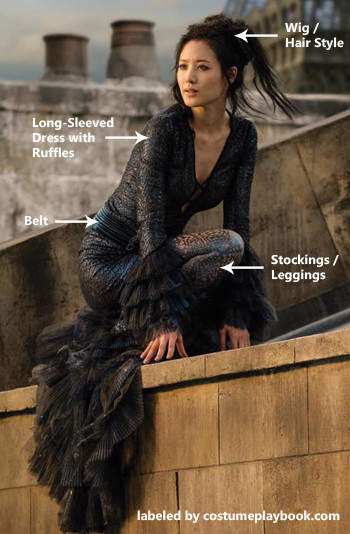 A look at her body art: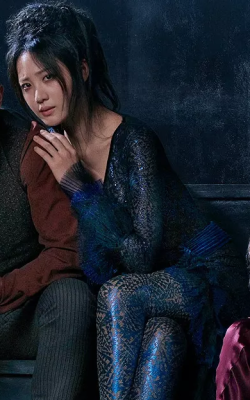 White Foundation

Make your face very pale but not stark white. Keep your hair tied up in a high, messy bun

Black Lipstick

Then apply a midnight color shade to your lips

Snakeskin Bodysuit

In the trailer, Nagini wears a snakeskin outfit with long sleeves and a deep V, and some very ostentatious ruffles. We can improvise by wearing a three piece number. First, wear a snakeskin bodysuit, and unzip it so that it creates that deep V

Snakeskin Bodycon Dress

An alternative to the bodysuit is this bodycon dress. It doesn't have deep V though, but it's just as tight-fitting as Nagini's

Black Ruffled Skirt

Next wear a skirt with lots of ruffles. There is no snake skin textured skirt out there, but I think the black skirt should work fine as it consists mostly of ruffles anyway

Waist Belt

Wear a black waist belt that isn't too wide

Snakeskin Tights

Option 1 is to get a snake skin print similar to the bodysuit

Ornate Pantyhose

Option 2 is to go for a patterned pantyhose, as based on the photo she has very ornate body ink on her legs. I would go for the 4th pattern from the left. Since this is semi-transparent, consider wearing a tight pair of shorts if you chose the bodysuit, since the ruffled skirt has a revealing part. If you chose the bodycon dress, then you should be good to go.