Table of Contents: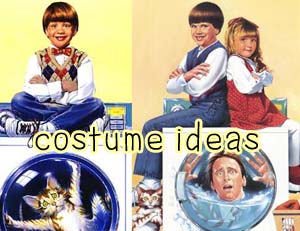 Dress up as a parent's biggest nightmare – Junior. Double the trouble and bring along Trixie, too! Everyone else, beware! This is a good costume idea for a girl/guy best friend tandem or a brother/sister team
Problem Child 1
Dress up as Junior (Problem Child 1)
Attila the Hun. Ivan the Terrible. Al Capone. They were all seven once and they were probably all like Junior (sans the bow tie perhaps). Don't let his preppy attire and goofy bow tie fool you – he has the ability to set houses on fire and ruin parties.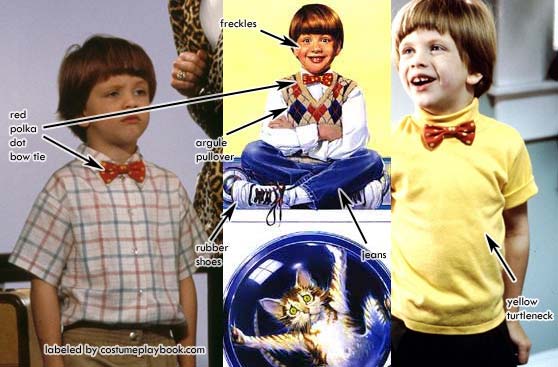 Red Polka Dot Bow Tie

Think of Junior and the first thing you probably see in your mind is his red polka dot bow tie which he pairs with all his outfits, even his devil costume and baseball gear! Seems like the dots on Junior's bow tie are yellow, but this bow tie I found bears a close enough resemblance

Argyle Vest

To mimic the poster, just wear an argyle sweater over a plain white button down shirt. Then, wear jeans and a pair of rubber shoes. He looks so preppy and put together, who would expect he was actually full of mischief?

Yellow Mock Turtleneck

His yellow turtleneck is another outfit idea, which looks really comical with the bow tie

Wooden Slingshot

Every mischievous little boy needs a slingshot
Dress up as Junior (Problem Child 2)
In the second movie, Junior is still as naughty as ever, but he has finally met his match when he meets Trixie, a sweet-looking girl who carries a dynamite stick with her.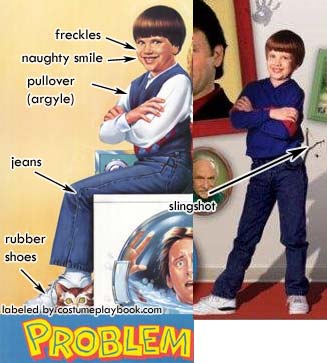 Blue Argyle V-Neck Sweater Vest

Since Junior throws away his bow tie over the bridge, the Problem Child 2 costume no longer includes the infamous polka dot piece. In the poster, he wears a sweater vest again, this time a blue one with what seems to be argyle details on the bottom. Wear a button down shirt below and pair again with jeans and rubber shoes

Plain Blue Sweater Vest

A plain sweater should do the trick too, if you're not too fond of argyle.

Wooden Slingshot

Junior arms himself with a slingshot to achieve his mischievous ways in the second installment of Problem Child. He used it to shoot Trixie's balloon – bad move, Junior, wait till you see what she's capable of!
Problem Child 2
Dress up as Trixie (Problem Child 2)
This sweet little girl is going to shock you with all the crazy and disturbing things she can do!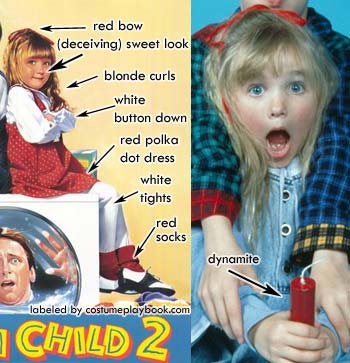 Blonde Wig with Curls

Trixie's sweet, blonde curls mask the despicable things that she is capable of doing. This particular wig manages to carry that sweet look, and it has those bangs too!

Headband with Red Bow

A headband with a red bow is again another sweet (deceiving) addition to her outfit

Red Polka Dot Dress

In the poster, Trixie wears a red polka dot dress over a button down shirt. This particular dress I found manages to carry that message across while still looking retro cute enough to wear outside a costume party. You can also re-use it for a Minnie Mouse costume

White Tights

She wears white tights underneath the dress

Red Socks

Any simple pair of red socks will do. Just be sure to bunch them up a bit to create little folds.

Saddle Shoes (Black and White)

Are those saddle shoes Trixie wears in the poster or sneakers? Regardless, any pair of sneakers with white and black details should suffice

Fake Dynamite

Trixie carries dynamite with her. Yes, dynamite! It makes Junior's slingshot look like a pitiful piece of wood
Inspiration – Problem Child Reunion
This costume guide was inspired by a Problem Child cast reunion that was held last 2012. The cast was able to recreate their looks from back when they were kids and it was very adorable! Here's an example shot: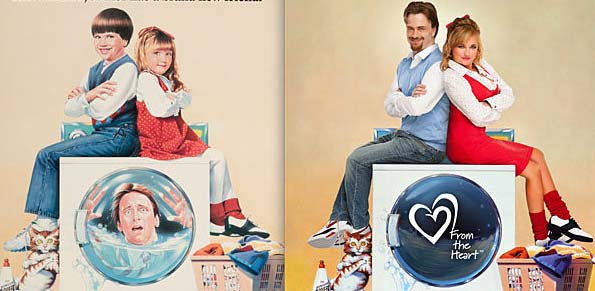 You can check out more details about the Problem Child reunion photo shoot here.