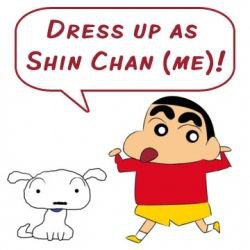 Dress up as Shin Chan from Crayon Shin-chan, your not-so-average, challenging, slightly inappropriate five year old boy! Make sure you bring along Shiro, his intelligent, fluffy canine friend. The costume is super easy!
Table of Contents:
Dress up as Shin-Chan (for Adults)
The Shin Chan outfit is EASY! Black wig, thick eyebrows, red top, yellow shorts, white socks, and for the final touch – bring a Shiro plush, his faithful dog!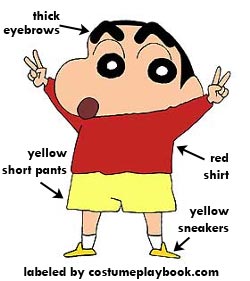 Eyebrow Pencil – Black

Use a black eyebrow pencil for your thick eyebrows

Black Wig with Straight Bangs

The artist behind Shin-Chan gave him a very simple haircut – just a top of black hair with straight bangs. This wig is a great find – it has straight bangs too and the reviews are good

Basic Red Tee

How easy can this get? Just wear a simple red tee. You might even have one at home already!

Yellow Sport Short Pants

For the bottoms, a contrasting yellow pair of shorts! Any style would do actually but I opted for these mesh sport shorts because I think it has a youthful look to it – almost like a kid who just came from gym class. Finish off the outfit with a pair of yellow sneakers and white socks.

Shiro Dog Plush Toy

Bring along your canine buddy, Shiro!
Dress up as Shin-Chan (for Kids)
Here is the kid's version of the Shin Chan getup. Shin Chan is actually quite a cute character (minus his inappropriate behavior). So just make sure your kids don't watch the actual anime haha
You may want to use an eyebrow pencil to place thick eyebrows on your kid, if you're open to the idea. You can purchase some kid-friendly makeup to do the trick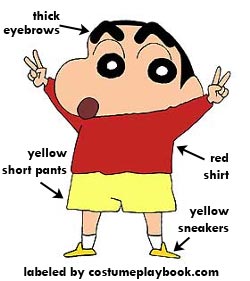 Basic Red Top for Kids

Here's a very basic, affordable red top for kids

Fake Eyebrow Prop

You can also plaster on a fake eyebrow prop. This is a unibrow so you will need to cut it in half. I personally prefer an eyebrow pencil so you can make a very clean black arch

Yellow Sport Shorts

I, again, opted for sport shorts to give it that youthful look

Shiro Plush Toy

Have your little one bring along Shin-Chan's fluffy white canine buddy, Shiro!