Rurouni Kenshin – Movie and Anime Version
Dress up as Shishio Makoto
Dressing up as the ultimate rival of Rurouni Kenshin is quite a challenge but definitely worth it, if you get to pull it off! The movie version copies the same costume – mummy-like bandages and yukata. Tatsuya Fujiwara manages to capture the villain's crazed evil tendencies. For extra detail, you might want to consider donning some makeup on the uncovered parts of your face to make it look they've been burned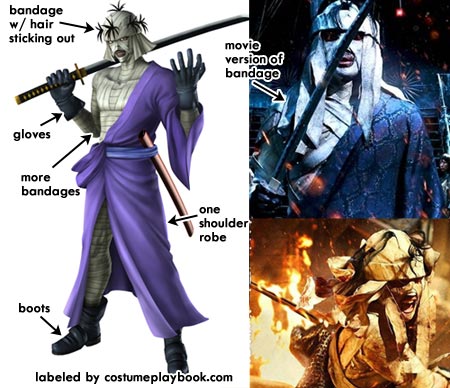 Gauze Bandages

The trickiest part to piecing together a Shishio costume is mummifying yourself. Buy a ton of bandages and wrap yourself around then secure the ends with gauze tape. Be sure to make holes for your eyes and mouth, and have some of your hair sticking out of the bandage

Mummy Suit

Another option is to dress yourself inside this faux mummy suit, which has gotten pretty good reviews. The only problem is that it covers the whole of the face so you will need to puncture some holes in it. Take note though that I cannot guarantee what will happen when you do puncture the holes.

Yukata for Men

Over your bandaged body, wear a Japanese Yukata for men. Keep your right shoulder loose.

Samurai Sword

Bring a samurai sword with you. This one is a toy so expect it to be made from plastic and of mediocre quality. For a costume prop, it should be fine – and you won't end up hurting anybody – you're just dressing up as the evil mastermind right? No intentions of actually being like him?

Black Leather Gloves

Wear a pair of black gloves, preferably made from leather or faux leather. This pair is fairly affordable given the positive reviews it received.

Black Boots

The last piece for your costume is a pair of black boots. I chose this one because Shishio's pair is fairly plain, like this one.
Table of Contents
Click on any of the characters below to view their costume guides.
The Good Guys
Oniwabanshu
Juppongatana