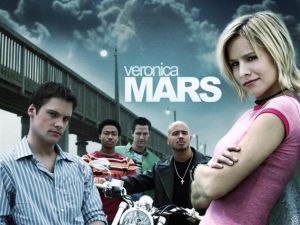 Dress up as Veronica, the cheeky, witty blonde detective (necklace, bag, and all), Logan, the obligatory, psychotic jacka**, or get all bloody as the murdered BFF, Lily Kane
Table of Contents:
Dress up as Veronica Mars (Kristen Bell)
I chose this outfit because it's the one you see in the DVD cover, and because it was even the inspiration behind the Veronica Mars bust statue (which Kristen Bell hated by the way) Those who did not follow through all the seasons (the horror!) will recognize it too.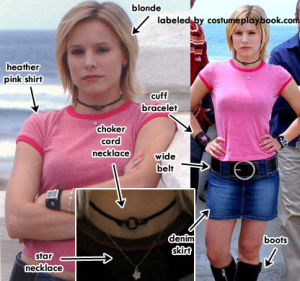 This is Kristen Bell and her statue: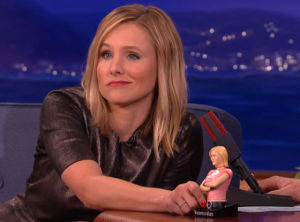 Short Blonde Wig

You have to wear a blonde wig. It defines Veronica Mars! As Logan says – "Annoy, tiny blonde one, annoy like the wind"

Heather Pink Shirt

On the cover of the DVD (and on her bust statute), she wears a pink shirt with a heather material

Cord Choker Necklace

One of the most distinct parts of her Season 1 outfit is the choker necklace, which she wore in practically every episode. Any simple cord necklace will do as long as you can adjust it to become a choker

Star Necklace

She layers the choker necklace with a small star pendant silver necklace. This is a very significant necklace because it was her best friend, Lily Kane, who gave it to her. Even on Season 3, she is seen wearing this, and an episode even slightly revolves around it (someone steals her necklace). This particular piece is actual a set containing a sparkly star and a moon, and I think it looks really great

Leather Cuff

To add an even more rock star edge to her outfit and persona, she wears a wide leather cuff. Hers had a star on it, but this plain one should do the trick

Denim Mini Skirt

The denim skirt is a perfect accompaniment to the rest of the accessories.

Thick Belt

She wears a thick belt

Black Knee-High Boots

And for the final piece: a pair of boots! How rock star chic!
Dress up as Veronica Mars' Bags (Season 1, 2, and 3)
Every season, the blonde carries only bag, making it a truly distinct piece of her outfit! Below are some of my personal favorite bags that have the same look and feel as the original. These aren't exact replicas but I think they carry the Veronica Mars spirit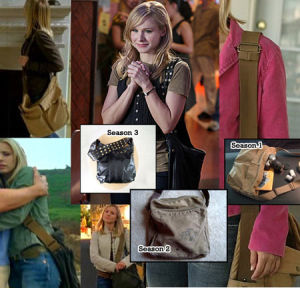 Logan Echolls (Jason Dohring) Costume
Dress up as the psychotic obligatory jack-ass everybody LoVes!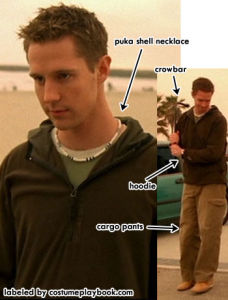 Camel Leather Biker Jacket

One of the most distinct pieces of Logan's outfits has to be his cool biker jacket. It made him look like such a bad-ass 09er

Puka Shell Necklace

Another item that stands out in Logan's wardrobe is his Puka necklace. He wore it on several occasions, including the memorable Episode 1 beach scene when he dropped by to hit Veronica's car with a

Brown Hoodie

Also, on the same beach scene, he wears a brown hoodie

Crowbar

As a prop, you can bring a crowbar along with you. Just don't go hitting any cars though!
Dress up as Lily Kane
What do you get when you combine Veronica Mars with a scare-tastic Halloween costume party? A re-enactment of Lily Kane's murder – THE murder that set Veronica's wheels in motion and changed her life forever. All you need is some fake blood on your long blonde hair, a Neptune High shirt, and green short pants. "I've got a secret — a good one"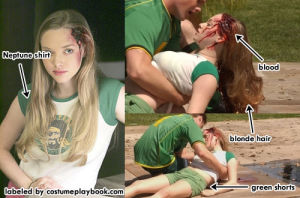 Blonde Wig

First step: wear a blonde wig

Fake Blood

Now for the fun part! Smear some of this fake blood on your hair and onto your forehead. Let it drip down your face the same way it did on the photo above

Neptune High Shirt

I was very happy to spot this one! It has the Neptune High logo – the exact same one Lily had on, AND the cap sleeves! The sleeves are colored brown though but it's still a pretty darn good replica

Green Short Pants

The bottom is easy – just a pair of green short pants. For the shoes, you can just wear a pair of flip-flops