Want to dress up as an anime character but want to keep it simple and hassle-free? Killua's look is perfect for you! If you're a 90s kid, and you loved watching anime, then you'd definitely have watched Hunter x Hunter. The manga is still currently running so the characters are sure to be recognizable for other generations too!
Dress up as Killua Zoldyck
Killua has this skater boy look going on (and even owns a skateboard), so his outfit game is all about layers of loose, comfy clothing.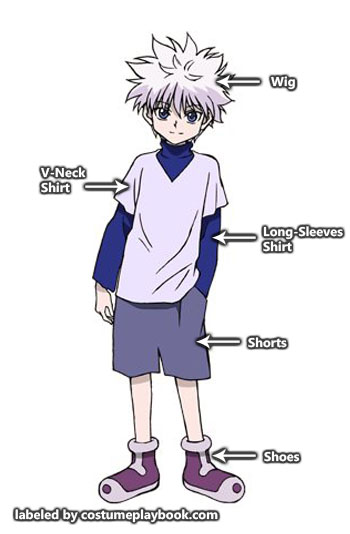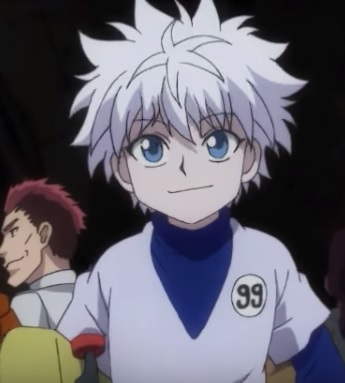 A look at his skateboard:


White Spiky Wig

Killua is always remembered for his white spiky very anime-ish hair. This wig will definitely come in handy for a handful of other costumes in the future (Tōshirō Hitsugaya from Bleach, Jack Frost, etc)

Blue turtleneck long sleeve

One of his most distinctive costumes involves wearing a blue turtleneck long sleeved shirt. The sleeves of this shirt are a bit more fit than that of Killua's, but it should work fine. You can buy this to size so that you have an easier time wearing the V-neck over it

White V-neck Shirt

Over the turtleneck, wear a white v-neck shirt, again a size larger to get that loose, baggy look going.

White Circle Sticker

If you notice, on the anime, he has a patch on the left side of his white shirt showing a white circle with the number "99″ on it. You can use a felt circle adhesive like this one. This is 3″ wide.

Number Iron On Patch

Next, buy 2 number "9″ patches and stick onto the white circle sticker above. This should fit snugly into the circle sticker.

Idea: A cheaper, quicker alternative would be to simply print a circle with the number 99 on a piece of bond paper, cut it out nice and neat, then stick onto your shirt with a double-sided tape. Easy peasy! I've already done it on a photo editor so you can just click on the image below to see the full version and download it for printing. Print based on your dimensions / size.:

Dark Gray Sporty Shorts

Now I'm a little bit undecided when it comes to his shorts, since they're drawn so simply on the anime. It's clear that the shorts are loose on the thighs, so I'm leaning towards these sporty Rugby Shorts.

Gray Walking Shorts

But if you want a more fashionable alternative, you can opt for a pair of flat-front walking shorts like these.

Yellow Skateboard with Red Wheels

Want to go all out? You can buy this yellow skateboard with red wheels for your prop – the same color combination that Killua's skateboard has (image above)

Red Arrow Vinyl Sticker

You can even go crazy with it and add a red arrow sticker on the skateboard just like Killua's. The length of this arrow is shorter than the one shown on the anime, but should do the trick!