Dress up as Eleven, from cult favorite TV show, Stranger Things! A cute pink dress, a fake nosebleed, and several easy pieces are all you need.
I know there are a TON of Eleven Stranger Things costume guides already out on the great world wide web, but allow me to jump on the bandwagon and give you my take on it. I also have a link to buy those Eggo waffles she got from the store, for that extra fun touch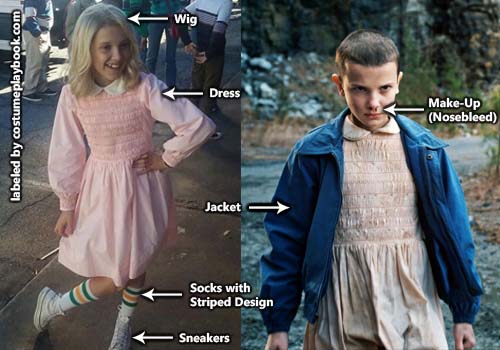 Dress up as Eleven
Blonde Shoulder Length Wig

You have 2 options – buzz cut hair, or a blonde shoulder-length wig. I personally think the latter is more within one's comfort zone

How the boys managed to find such a nice-looking wig for her is beyond me

Detachable Peter Pan Collar

If you already have a sweet, light pink dress lying around in your closet (ideally one with long sleeves if you are skipping the jacket), then all you really need to do is buy a detachable Peter Pan collar and attach to add that extra sweet little girl look to your costume. Peter Pan collars are best as they feature the same round curves that El's dress had

Eleven's Pink Dress Replica

Cool, there is actually a replica out on Amazon for the dress – it features the collar, the frilly top detail, and long sleeves! Plus, the price is reasonable. For added detail, dirty up the dress a bit. Charcoal is an easy way to achieve that

Light Pink dress with Collar

This is another good alternative. It's short-sleeved (which won't matter much if you plan on wearing a jacket) but it definitely has that dainty touch to it and already comes with a Peter Pan collar. It's affordable and has gotten good reviews as well, and it's something I could wear on a casual day out

For added detail, dirty up the dress a bit. Charcoal is an easy way to achieve that

Fake Blood

You gotta showcase the nose bleed! It's a must, in my honest opinion. Put some fake blood at the ends of your nostrils and you're good to go!

Blue jacket

Now for her jacket. It's important to get a jacket that is a bit loose on you, to mimic her look. The one Eleven wears seems to be made of cotton rather than nylon, but this should suffice. A denim jacket should work fine too if you have one at home – preferably one in a primary blue shade. Keep the jacket unbuttoned

Socks with Striped Details

So happy to have quickly found this pair of socks with nice green and yellow striped details to it. Wear a pair of white sneakers and you're good to go!

Eggo Waffle Boxes

Now for the fun part. You know how Eleven loves her waffles? And how she grabbed some Eggo waffle boxes from the store? How about bringing some along with you!
Have you seen this baby dressed up as El? How cute is that!