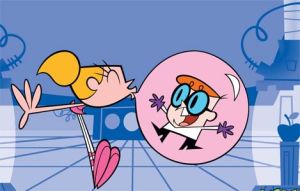 Here are costume ideas for 90s cartoon, Dexter's Laboratory! Dress up as Dexter, the smartest boy you've ever seen, or Dee Dee, the sister who blows his experiment to smithereens! Or wear arch-rival, Mandark's outfit. There is no gloom and doom in this costume guide!
Dress up as Dexter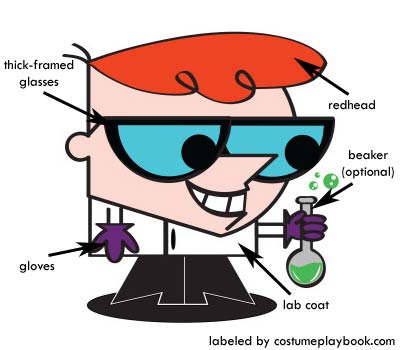 Dexter is a super genius who has a secret underground laboratory where he performs his super secret experiments. Not so secret actually – his sister always shows up to destroy his creations!
Ginger Wig

Dexter is a redhead. His hair actually falls down his forehead and has curls, so you would have to fix this wig up a bit to mimic that.

Thick-framed Glasses

To keep with the nerd cliche, Dexter, of course, dons a pair of thick-framed glasses. This pair on Amazon actually looks very fashionable!

Lab Gown

Dexter's most trusty part of his outfit is his lab gown, to keep him protected during all his science experiments.

Purple Gloves

Who says Dexter isn't stylish? He dons a pair of purple gloves for some color.

Black Boots

I can only speculate on what kind of shoes Dexter wears. I surmise it's a pair of black PVC boots – the practical choice at a laboratory.

Plastic Beaker

As an additional prop, consider bringing along a beaker (a plastic one is best, so you don't have to worry about breaking anything). You can pour some colored liquid into it, like strawberry juice
Dress up as Dee Dee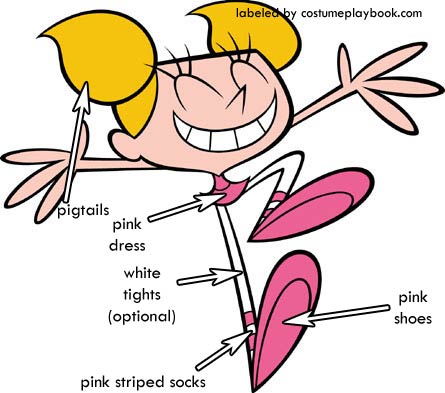 Remember to try to act as hyper as Dee Dee. And if you break a vase or two, while saying "oooh, pretty, what does this do?" I'm sure your guests won't mind… so much.
Correction: Those are not shoes and pink striped socks but rather pink ballet dance slippers, whose ribbon you tie on your ankles. That explains why Dee Dee can prance about so well! You can still opt for casual shoes (like ballet flats) if you want something you can wear again. You can buy some satin ribbon to go along with the flats to mimic the ballet slipper's effect.
Blonde Pigtails

Dee Dee is an extremely bubbly girl and her blonde pigtails are as high as her spirit and energy!

Pink Tank Dress

Any pink dress should do actually so long as the skirt is flowy. There are so many options out there. This one is in a deeper pink shade and is a very breezy piece. I can imagine myself wearing this again and again on hot summer days

Pink Skater Dress

A skater dress is always a good option because the skirt is flared the same way Dee Dee's skirt is drawn. Skater dresses are such a trend these days and it's not hard to see why. They look very chic and feminine.

Ballet Dancing Shoes

Ballerina slippers are perfect for the girl who's always prancing about and doing ballerina dances on her brother's laboratory

Pink Ballet Flats

Ballet flats are a more practical alternative to the official ballet slippers. Pair this with white tights. For that pop of pink stripes, you can wear the pink-striped socks below or just get yourself some pink satin ribbon to tie around your ankle.

Pink / White Striped Socks

This is perfect because the pink stripes are just at the top. It does have the word RED LION on the bottom but that should be covered by your shoes. Of course, wearing socks over tights might be a tad warm.
Note: Not a fan of pink dresses? Feel free to substitute with a pink tank top + pink skirt combination.
Dress up as Mandark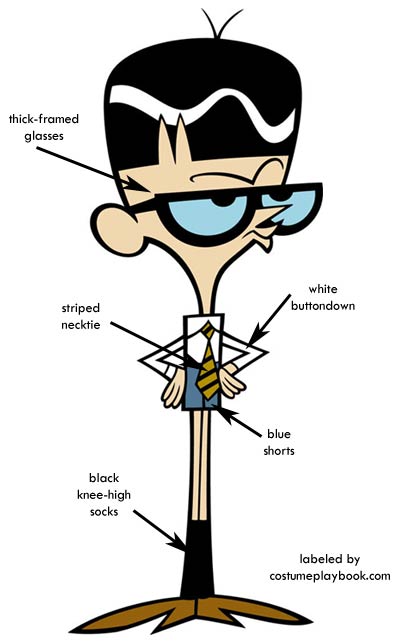 Every super genius must have an arch nemesis, and in this cartoon, his name is Mandark. Mandark's Achilles heel? Dexter's sister, Dee Dee. He is head over heels in love with her!
Wig with straight bangs

Mandark's hair is unusually straight on the bangs part, and this wig mimics just that! Ironically, this wig is actually based on the Dumb and Dumber movie. A Dumb and Dumber wig for a smart boy

Thick-framed Glasses

Mandark sports a pair of glasses that looks almost exactly like his arch rival's, Dexter. Perhaps they both shop at the same geek store.

White Button Down Shirt

Mandark is very preppy! This is paired with a necktie (see below)

Chino short pants

The cherry on top of his preppy outfit? A pair of chino short pants!

Oxfords / Dress Shoes

It's not very obvious what kind of brown shoes Mandark wears, but I'm guessing it's a pair of Oxfords. It fits with the whole preppy attire