Table of Contents: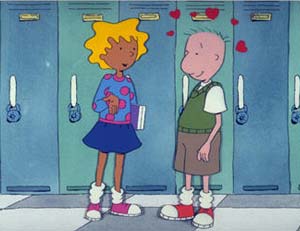 Couples can dress up as Doug and Patti from the 90s hit Nickelodeon cartoon, Doug. Or if you feel like a superhero, unleash your "Quailman" identity!
Dress up as Doug Funnie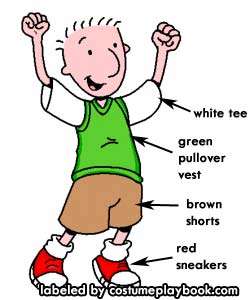 Dress up as Patti Mayonnaise
I love Patti's outfit! It's so cute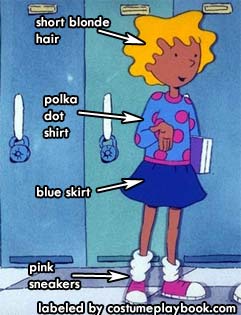 Short Curly Hair

I've always envisioned Patti's hair to be short and very curly like this one.




Plain Blue Long-Sleeved Top

You can go the DIY approach. Get yourself a basic blue long-sleeved top, cut up some circles from a pink cardboard paper, then stick them on your shirt

Blue Skater Skirt

I love Patti's skirt! It has a very nice, trendy look, even in today's standards. I found this really cute skater skirt that looks just like it. The price is reasonable and it got a lot of raves!

Pink Converse Chuck Taylor Low-Cut Sneakers

Like Doug, she wears a pair of sneakers only hers is in the shade of pink. Wear white socks and bunch them up a bit to resemble Patti's look
Dress up as Judith Anastasia Funnie
Meet Judy Funnie – the original hipster!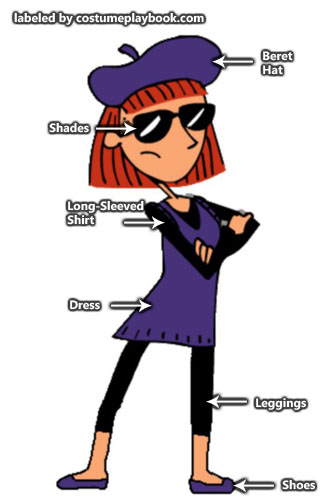 Purple Beret

The cool cat wears a purple beret

Short Orange Hair with Bangs

The orange hair provides a very nice contrast from the purple beret

Black Sunglasses

Cause nothing says cool better than a pair of wayfarer sunglasses

Purple Tank Dress

If you can see, Judith wears a long V-neck top, which she then pairs with tights. This purple tank dress would be a good option. Wear a basic black long sleeved top underneath

Sweater V-Neck Vest

The V-neck vest should be purple just like the beret, but as it is currently out of stock, you can also opt for a dark blue one. Hers is more of a mini dress length, but you can also substitute with a shorter one like this piece, and pair with a black mini skirt

Footless Tights

Wear a pair of black footless tights

Purple Flat Slouchy Boots

End your outfit with a pair of purple ballerina flats. OR, if you want to spice up the outfit a bit more, you can choose to wear these slouchy boots instead!
Dress up as Quailman and Supersport
If you want to add some humor to your costume, then dress up as Quailman and Supersport, the superhero identities of Doug and Patti. Doug's Quailman getup is a riot – underwear over the shorts to channel the Superman look and a belt on top of his head.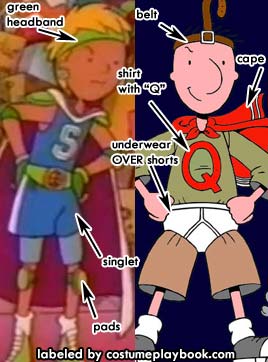 Red Cape

Every superhero needs to have a cape, even if it's just for an imaginary superhero! The rest of Quailman's outfit can be easily found in your wardrobe. A green long-sleeved shirt with a red letter Q, a simple brown belt to be tied onto the head as a cap, the same brown shorts from above, underwear over the shorts (if Superman did it, so can you!)

Quailman Costume Shirt

Here's a smart idea – a green shirt that has Quailman's red "Q" initial printed on it!




Green Headband

Patti's superhero persona is Supersport, and just like the name implies, her costume is very athletic. It's very appropriate too since she's a very good athlete. Her hair is swept back by a bright green headband like this one. I chose a sporty piece.

Blue Wrestling Singlet

My guess is that Supersport is wearing a blue wrestling singlet. Place a white letter S on top of it

Green Elbow and Knee Pads

Place pads on your elbows and knees like Supersport did.