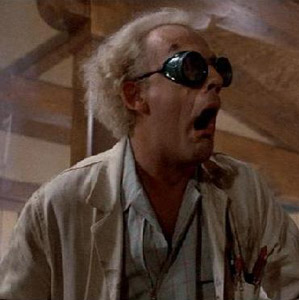 Without Doc Emmett Brown, we wouldn't have the epic Back to the Future movie series! Dress up as the inventor of the dolorean time machine car and Marty's good friend.
Table of Contents:
Back to the Future Part 1 Outfit
The first part of this epic trilogy has us discovering the awesomeness that is the Dolorean. The genius behind it? Eccentric scientist, Doc Emmett Brown! He uses plutonium which he pilfers from the Libyans, in order to power the vehicle.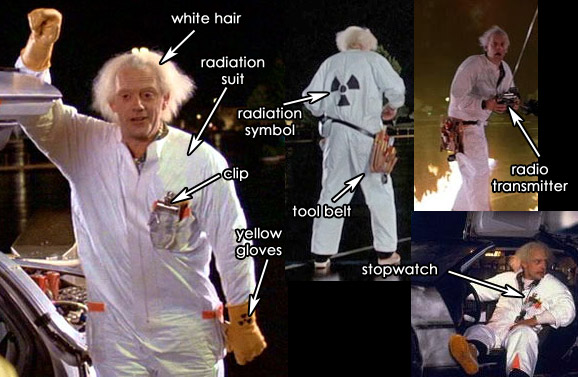 Mad Scientist Wig

Doc Brown has that mad scientist vibe going on, and his white disheveled hair plays the part perfectly

White Coveralls

In Part 1, Doc Brown's most distinctive outfit is his white radiation suit, which he wears while testing out the dolorean for the first time. He is wearing this because of the use of plutonium. "If my calculations are correct, when this baby hits 88 miles per hour… you're gonna see some serious sh#t." These coveralls come with a hood but keep it down like Doc does.

Radiation Sticker Decal

At the back of Emmett's suit is a radiation symbol. Use this black decal and stick it onto the back of your suit! You can also buy some more to stick on your gloves.

Yellow Rubber Gloves

Naturally, he needs some rubber gloves to go along with his radiation suit

Tool Belt

A scientist needs a good tool / utility belt to bring all his important tools during his experiment! Doc wears this behind his right side

Bulldog Clip

If you notice, on the front of his suit, there is a clip where his pocket is. The coverall above might not have a pocket, but you can improvise by simply clipping it onto wear the pocket should be

Orange Duct Tape

Did you notice how his suit has those extra orange details? If you wish to mimic these, then you can improvise with some orange-colored duct tape!

Transmitter / RC Radio

The inventor uses this transmitter device to control the delorean. This one looks really cool and similar to the one in the movie!

Stopwatch

Doc wears a black stopwatch on his neck at one point in the dolorean scene.
"Futuristic" Outfit from Part 2
Doc Brown tells Marty he must go back to the future with him, to the year 2015! Why? Because his son's future is at stake in the hands of Biff's grandson! It is in his crazy yellow-red outfit that we hear him say one of the most trademark lines in the movie: "Roads? Where we're going, we don't need roads." An extra piece to your outfit is a transparent necktie, which you can do yourself with some plastic cover.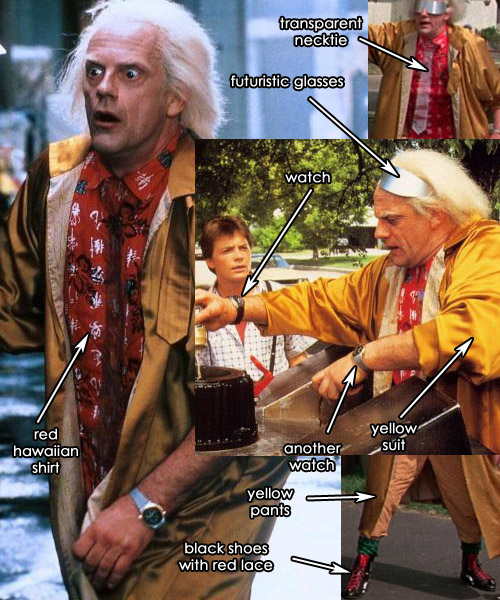 Futuristic Sunglasses

Doc sports a very futuristic pair of sunglasses in silver.

Red Hawaiian Shirt

Seems like Doc is sporting a red shirt with some Chinese characters on them, but a Hawaiian shirt should still be in. Hey it's 2017 now and it still is in!

Yellow Raincoat

As if his shirt was not bright enough, he pairs it with a very bright yellow coat. You can use a raincoat to save a few bucks.

Casio Men's Watch

Doc wears one watch on each of his wrist. One shows the correct local time, the other is 4 hours ahead!

Yellow Pants

To keep with the red/yellow theme, Doc even wears a pair of yellow pants! This pair I found looks a lot more decent, and would look good on normal occasions

Pair of Glossy Black Shoes

Doc's glossy black pair of shoes with red shoelaces does not play second fiddle with the rest of his loud attire. Use the red shoelaces recommended below for the costume party, then change it back to a black lace so you can actually use it on other days.

Red Shoelaces

Use these with the pair of shoes above
Roads? Where we're going, we don't need… roads

Other Characters from Back to the Future
Click on a character below to view full costume guides from the three Back to the Future movies!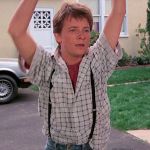 Marty McFly