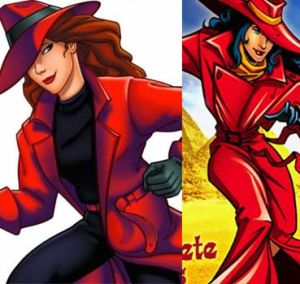 Dress up as one of the most popular (notorious) and fashionable villains of all time… Carmen Sandiego! Don her trademark outfit – red trench coat and big red hat.
Dress up as Carmen Sandiego
A few years ago, I spotted this super amazing red trench coat in Promod. I wanted it so badly that I thought of several different reasons to buy it – one reason was so that I could dress as Carmen Sandiego for my next costume party. I've always been a fan of the game / book. It was fun nabbing her evil accomplices and eventually her!
What's great about dressing up as Carmen is that she has a very distinct AND fashionable attire. Most of the important pieces can be used on an ordinary stylish day. Below, I give you several choices for your shoes and coat. Be sure to pick the one you'd wear again!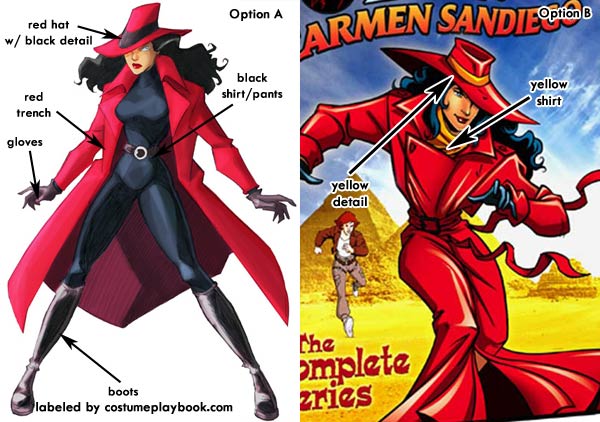 Red Trench Coat (V-neck)

This first piece has a nice V-neck cut, and is relatively inexpensive considering its material




Red Wool Trench Coat

This wool coat is very cute and would be a very chic and essential piece for the colder seasons.

Red Wide Brim Floppy Hat

Okay, there is a bit of a debate whether Carmen's hat has a yellow ribbon detail or a black ribbon detail. The old school version chose yellow; the new Facebook game has her sporting black. You decide which color theme you prefer!

Red Hat with Black Ribbon

If you would like to follow Carmen's more modern look, then this red hat with black detail is the perfect piece! Otherwise, you can buy some inexpensive yellow ribbon and tie around the hat.

Yellow Ribbon

If you're going for that pop of yellow, then all you need is some inexpensive yellow ribbon

Black Leather Gloves

No villain is complete without a pair of black gloves to erase all the evidence. Carmen must be sporting a pair of leather ones – they're sleeker and totally her style. This pair is on sale at $10, making it an affordable buy!

Red Stiletto Pumps

Others portray Carmen as wearing red high-heeled shoes. Very sexy, indeed, and it just shows that her favorite color is red!
Super cool idea: Turn this into a couple costume by asking your partner to dress up as Waldo from Where's Waldo! They've got a LOT in common wouldn't you say? The color red, the ability to hide… they'd be perfect for each other!
Further proof? Here!