Table of Contents: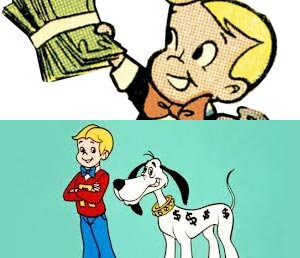 Dress up as the fabulously wealthy boy, Richie Rich. Bring along your canine with you as your "dollarmation"! You can either dress up as the comic book or the cartoon character
Dress up as the Comic Book Version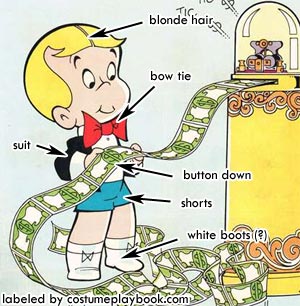 In the comic book version, Richie looks like a very young boy. He wears a very formal suit and some shorts – the perfect preppy look for a rich boy like him.
Blonde Wig

Richie's hair is blond

Black Blazer

In the comic book version, Richie Rich is portrayed as a young boy wearing a black blazer / coat over a white shirt (it's highly likely that the shirt is a collared dress shirt) as it fits with his rich, gentlemanly attire. The white sleeves of the shirt also pop out from under the blazer, just like in the picture. Richie probably wears a more formal black blazer but for a costume party, a more casual interpretation should do the trick

Red Bow Tie

A distinct red bow tie makes his look stand out.

Blue Shorts

A pair of blue shorts makes for a preppy look for boys

White Argyle Socks

Richie wears a pair of white socks with blue details. You know what would be a great addition? An argyle pattern to give him an even more sophisticated air

Play Money – Fake Dollar Bills

Flaunt your (fake) wealth with some (fake) dollar bills
Dress up as Cartoon / TV Show Version
Similarities between the cartoon and the comic book – the blonde hair, the bow tie, and the wealth, of course!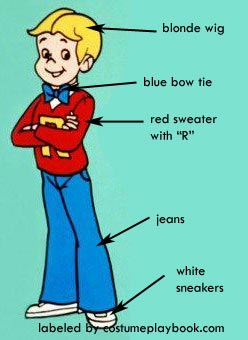 Blonde Wig

Richie still has that neat blonde hair but there is a slight curl on both sides which you can try to mimic using some hair spray

R Letter Applique

This is a big applique and the font is varsity-type so it would look really nice on the shirt

Red V-Neck Sweater

The cartoon TV series version of Richie Rich still looks preppy, but he seems slightly older and/or taller. Instead of a very formal suit, he wears a red sweater with a letter R on it, and a collared shirt underneath

White Button Down Shirt

Wear a white button down underneath the red sweater. I'm sure you have this work essential hanging around in your closet

Blue Bow Tie

The red bow tie was replaced by a blue one – a good choice since the pullover is already colored red

Play Money – Fake Dollar Bills

Flaunt your (fake) wealth with some (fake) dollar bills
Dress your Doggie as Dollar
Turn your canine buddy into the richest dog in the cartoon / comic book world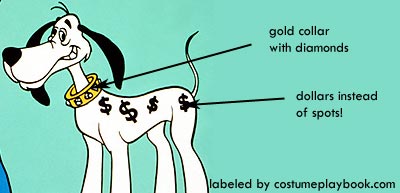 Gold Dog Collar with Rhinestones

Nothing is too good for the richest boy's dog – so a diamond-studded gold collar is in order! Of course, in the case of your costume party, you can opt for a more affordable rhinestone bling like this one and to get a yellow collar instead of something in solid gold

Plain White Shirt for Dog

Get a plain white shirt for your dog then use the fabric marker below to draw dollar signs.

Black Fabric Marker

This will help you draw dollar signs on your canine friend and turn him into a dollar-matian!