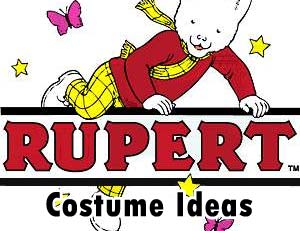 Dress up as the well-dressed bear, Rupert bear – a famous character from the UK.
Dress up as Rupert
I have fond memories watching Rupert on the telly. For starters, the whole thing is set in a very peaceful little English town – fresh air, greenery everywhere, and a simple home life – aah! Lest you think this show is a bore, think again. Every episode, this little bear goes into all sorts of adventures, from figuring out the mysterious disappearance of papers to magical undersea perils, complete with talking fishes, sharks, and a mermaid!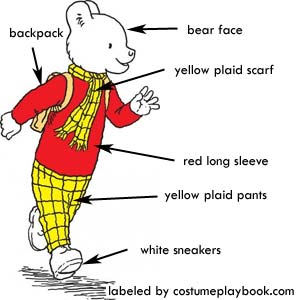 White Bear Hat with Paws

To look more like a bear, wear this super cute white bear hat. Paws are optional – you'd have to remove them though when it's time to eat or grab a drink. Did you know? Rupert started out as a brown bear but to save on printing costs, they turned him into a white bear instead. I think white's better because it makes the yellow and red of his outfit stand out!

Yellow Plaid Scarf (Unisex)

Nothing but the best for Rupert! He needs this for those windy, cold days in his beautiful English village

Ladies Red Turtleneck

For the ladies, wear this red turtleneck piece, which can be a stylish staple in your fall wardrobe too!

Men's Red Mock Turtleneck

The guys also have their red long sleeve top counterpart.

Ladies Plaid Pantyhose / Tights

Instead of wearing a loose-fitting pair of pants, consider wearing a more modern version of Rupert's pants.

Ladies Yellow Tartan Skinny Pants

Here's another option if you want a thicker material

Men's Yellow Plaid Sleep Pants

If you don't have any intention of wearing yellow plaid trousers to work, then you can just wear a pair of pajamas instead. Certainly, you can wear these to bed, right? As a bonus, you'd feel super comfy during your costume party too!

Another option is to wear a simple plain yellow pair though the plaid really adds character and matches your scarf

Brown Canvas Backpack

A backpack is an important companion for your adventures!
Since Christmas is just around the corner, how about a Christmas episode?