Phineas and Ferb
Dress up as Dr. Heinz Doofenshmirtz
The mad scientist has a very simple outfit. Make sure you bring your stupidity with you. It would be ideal to bring Perry the Platipus with you; otherwise, you might be mistaken for another mad scientist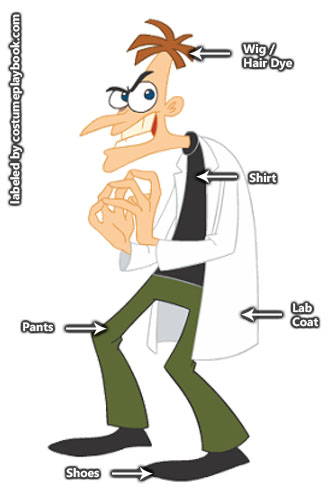 Toupee

Dr. Heinz has a hideous looking toupee, and this toupee is exactly the kind of tacky wig you'd like to wear. You might event want to unravel and trim it a bit more. You will also most likely need a bald cap

Bald Cap

This is the best bald cap kit being sold on Amazon

Lab Gown

The mad scientist / inventor needs his lab gown!

Black Turtleneck

Turtleneck sweaters usually make one look very refined, but such is not the case for this villain

Green Trousers

Wear a basic pair of olive green or army green trousers. Wear a pair of dress shoes to finish off the outfit

Perry the Platypus Plush Toy

I highly recommend bringing your secret agent platypus nemesis along with you so that people will more instantly recognize your character. This particular plush is cool because it can transform from secret agent to the normal, unassuming platypus!
Dress up as the other Characters from Phineas & Ferb