Table of Contents: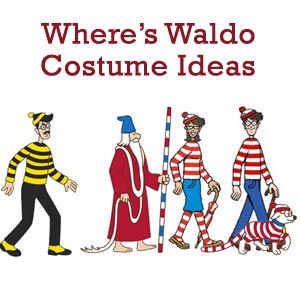 Who would have thought a red and white striped shirt can help you blend in with the crowd! Let Wally (also known as Waldo) and his friends teach you how – in style!
If you're going with friends, you can dress up as all the characters. If you want a couple costume and you are into matching outfits, then a Wally / Wenda tandem would be so adorable! May I also suggest something a little more subtle / creative? Dress up as Wally then have your partner dress up as Carmen Sandiego for a unique crossover couple costume! They're both elusive and love the color red. Perfect, right?
Dress up as Wally / Waldo
Wally (or Waldo) was a very distinct part of my childhood memory. After all, who could forget this elusive red/white striped character who always has that happy smile plastered on his face?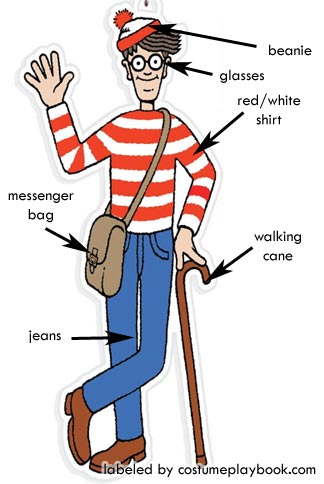 Where's Waldo Costume Set

This includes all of Waldo's essentials – the red/white striped hat, red/white striped shirt, and a pair of glasses. All you need to do is wear it with your favorite pair of blue jeans!

Messenger Bag

For additional props, you can carry along Waldo's signature messenger bag. You can definitely reuse this one on any other day

Wooden Walking Cane

Wally also has a magical walking stick which looks like your ordinary cane
Dress up as Wenda
Simply put, Wenda is the female equivalent of Waldo.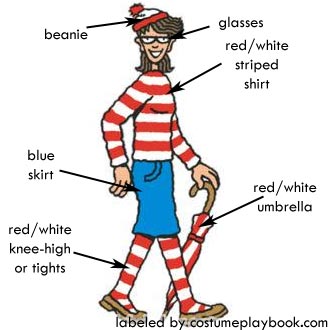 Wenda Costume Set

This set comes with a red/white striped hat, red/white striped shirt, and the glasses. Wenda must really like Wally enough to imitate his style!

Red / White Striped Sleeveless Top

Want something more hip for your Wenda costume? Why not switch from the long-sleeve top to a sleeveless one in the same red / white stripes?

Blue Denim Skirt

Wenda wears a blue skirt. It's not apparent what material it is, so feel free to improvise! My first guess is a denim skirt simply because Wally wears jeans.

Blue Skater Skirt

Want something cuter? How about this skater skirt? As a plus, it's a very trendy piece these days.

Red / White Striped Knee High Socks

The final piece is a pair of knee high socks in what else? Red / white stripes! It's not very apparent what kind of shoes she wears exactly, but a pair of flats would do the trick. Loafers or ballet flats perhaps?

Red and White Umbrella

While Wally wears a cane, Wenda, on the other hand, adds even more red/white to her outfit with an umbrella!
Dress up as Woof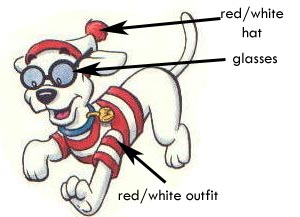 Woof is one of the most distinct canine characters so this costume is a definite hit!
Woof Costume Set

The dog loves red and white stripes too! The set includes everything your cute little doggy needs – the red/white beanie, red/white striped outfit, and a pair of glasses! Your pet will certainly steal the show!
Dress up as Odlaw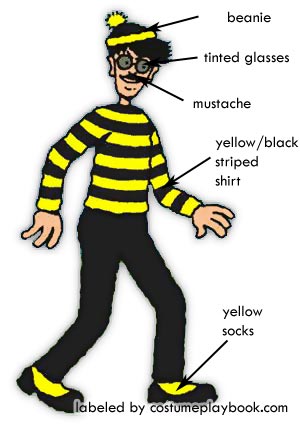 Odlaw is Waldo's arch nemesis who is always trying to steal his magical cane. His costume is just the same as Waldo's except that his motif is yellow and black. He also has a mustache, which makes him that much more suave than Waldo. (Sorry, Waldo! I'm just keeping it real). By the way – read Odlaw's name in reverse and what do you get? WALDO! Did that just blow your mind?
Want more proof that Carmen and Waldo would totally hit it off? This awesome fan art!