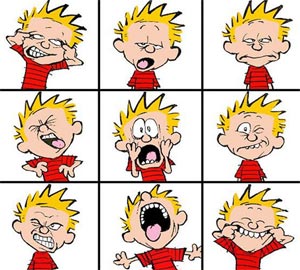 Calvin and Hobbes is one of my all-time favorite comic books and never fails to make me laugh! Here are easy ways to look like Calvin and Susie Derkins. Be sure to bring along your stuffed buddy. And your imagination!
This can actually work as an adorable couple's costume idea, too.
Dress up as Calvin
Calvin. How do I begin describing him? He's just quite the character! Even in his simple striped shirt and black shorts outfit, you will be recognized by many because Calvin happens to be one of the most beloved comic book characters ever created. If you'd like a fun spin on your costume, wear his Stupendous Man getup then yell: S for Stupendous! T for Tiger, ferocity of!
U for Underwear, red! P for Power, incredible! E for Excellent physique!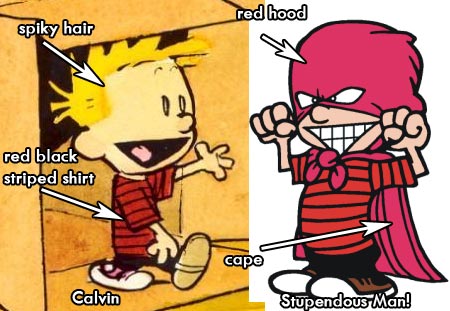 Oh and be sure you arm yourself with all the Calvin-esque facial expressions (see photo above!)
Blonde Spiked Wig

Calvin's hairdo is spiked in an exaggerated comic way, which is why this wig would work! You can definitely reuse this next time – there are a lot of characters who also sport spiked wigs (esp anime characters)

Mens Black & Red Stripes Collared Tee

The shirt Calvin wears every single comic strip, unless he's assuming an alter ego like Spaceman Spiff. In the strip,

the shirt is a round-neck rather than a V-neck one, but overall, I think this top nails the look!

Tiger Plush Toy

Calvin is incomplete without his good ol' imaginary buddy, Hobbes! I don't recommend bringing along a live tiger with you to your costume party of course, so this plush one will have to do. I love how similar this is to the one on the comic book!

48 inch Red Cape

To come as Stupendous Man, you have to wear a red cape, which in the comic strip, was sewed by his mother (I wonder if she regrets ever making it?)

Red Ski Mask

He wears a red mask to complete his superhero alter ego. In the comics, the mask is only up to the nose, so you might want to cut this up.

Adult Lucha Libre Wrestling Mask

Another option is to wear this Lucha Libre mask (I think Calvin would highly approve of this and create another alter ego out of it!) What makes this a good option is the fact that the mouth area is not hidden so no cutting is required.
Dress up as Susie Derkins
Susie is the girl with cooties. The one who always loses her appetite after hearing about Calvin's lunch for the day. And the girl Calvin might just end up with in the years to come