It has occurred many times before that I find myself totally undecided on my Halloween costume. There are just too many great ideas to tackle, and only one body to wear them on! Here are some tips that have helped me wade through the haystack of fun costume ideas to choose one: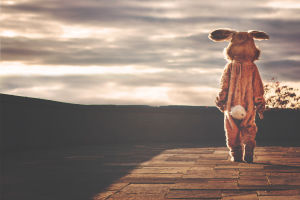 1. Start from the top.
Start with what kind of hair you'd like to have during the costume event. Do you want to keep your hair as it is, fuss-free? Or would you like to try having curly hair for a day? How about a particular color?
Example: I've always wanted to have red hair (forget the saying, "Blondes have more fun" – I think redheads have more fun!) but I've always been afraid of getting a hair dye treatment. So cosplays give me the perfect excuse to buy a nice red wig and be someone totally different for a day. (Hint: Here are a list of redheads you can cosplay as)
2. Choose from your Faves.
Here's a no-brainer: Think about your favorite movie, show, or cartoon – either a recent one or old school one. Then just choose a character from there!
3. Figure out the age group of the costume party.
If you're sure everyone at the party will be of a certain age group, then you can definitely dress up as a character from that time – something everyone will reminisce about. That's bound to make you the talk of the event.
4. Going with a group of friends?
Because if you are, then collaborate with them and try to think of just one theme for the whole group to dress up as! That's always fun. Plus, if you're the lazy one – there's always bound to be that one character in the group who just dresses up in simple top and jeans. Be quick and snatch that character up! You might look ordinary on your own, but once you're with your buds, no one will notice how little effort you put with your costume! Here are some group costume ideas for you
5. Reuse to reduce effort
Too lazy to buy or make your costume this year? Then look through your wardrobe to get an idea what clothes you have and look for a costume guide that requires simple outfits – you'd be surprised at how many costume ideas are out there that just need a pair of jeans, a flannel shirt, and some ingenuity.
How do you guys decide on a costume? Share with me below!
Happy cosplaying everyone!