Roger Rabbit is proof that the funny guy… er… bunny, gets the girl! Couples can dress up as the goofy Roger and sexy Jessica Rabbit.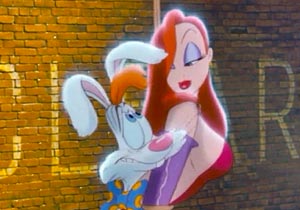 Roger Rabbit is a famous character from an 80s movie, entitled "Who Framed Roger Rabbit"? Like "Cool World", the movie features a mix of real-life characters and animated characters. I watched the movie again just last year, and it was still very entertaining.
Table of Contents:
Dress up as Roger Rabbit
Roger Rabbit is a goofy A-list toon known for his humor. His outfit reflects his personality so be prepared to wear a fun costume!
Fluffy Bunny Ears

A rabbit's most recognizable feature is his ears! Wear this bunny ear headband and people will notice you immediately.

Bunny Nose

This is optional in my opinion. If you want to look the part more, you can wear a bunny nose, complete with the two front teeth. It's sure to be a hilarious addition!

White Long Sleeve Top

If you want to mimic Roger Rabbit's white fur, wear a white long sleeve top, preferably one that is tight-fitting.

Red Overalls

Roger Rabbit wears a pair of red overalls!

Big Buttons

You'll notice that on Roger Rabbit's outfit, he sports two big yellow buttons. If you want that extra detail, you can buy this set of big buttons and stitch the yellow button on your red overalls.

Roger Rabbit Costume Set

If you'd rather get the whole costume all in one go, you can check out this set. The mask doesn't look particularly awesome, but the reviews have been warm and it has an average review of over 3 stars.

Bunny Tail

A fluffy pair of ears deserves a fluffy tail to go with it!

Blue / Yellow Polka Dot Bow Tie

Roger Rabbit's bow tie is a polka dotted one. His is a blue bow tie with yellow spots, just like this one although the blue of this one is darker.
Dress up as Jessica Rabbit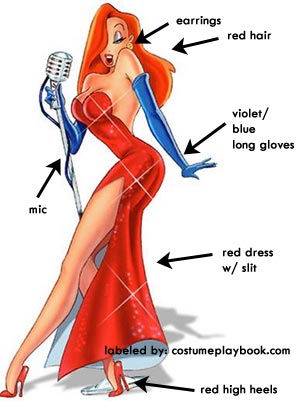 If you're dressing up as Jessica Rabbit, make sure you're committed to showing some skin and flaunting your curves! Jessica Rabbit is a singer so you can bring a mic as an additional prop
Makeup Tip: Put on a cherry red lipstick, and for the eye shadow, choose a shade similar to the light purple gloves below.
Red Wavy Hair

Jessica Rabbit has beautiful red hair that accentuates her sultry appearance.

Long Light Purple Opera Gloves

Jessica wears a pair of long gloves. In some photos, the pair is colored blue; in others, light purple

Jessica Rabbit Costume Gown

For a costume gown, this piece has gotten quite a lot of positive feedback. Many say the fit is good.

Red Strapless Gown with High Slit

If you want a dress that you can wear to a formal event, this high slit gown is a good choice! It's strapless, comes in a vivid shade of red, and looks very well made for a decent enough price. The positive 4 star review seems to agree

Metallic Tight Red Dress

This is another Jessica Rabbit costume dress with a very glossy metallic finish. It looks very body-hugging – which is exactly how Jessica wears it too! Reviews for this have been positive as well

Red Stiletto Heels

To complete the sexy look – a pair of high-heeled shoes in glossy red!

Glitter Microphone Prop

A glittery microphone is the perfect prop for someone as glitzy as the sultry singer, Jessica Rabbit!