Table of Contents: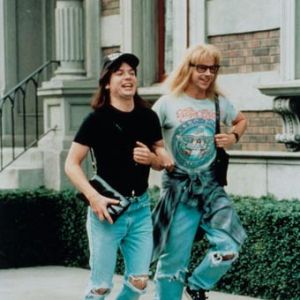 What started as SNL sketches turned into a crazy movie which made you laugh, cry, and/or hurl. Here's how to dress up as metalhead buddies, Wayne and Garth!
Dress up as Wayne Campbell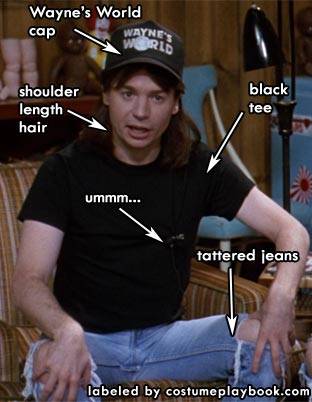 Wayne is the main character (as the title suggests). Played by Mike Meyers (from Austin Powers fame), he's a long-haired metal-loving dude who decides to air a silly show in the basement of his parent's house.
Wayne's World Cap

The most important part of Wayne's outfit is his baseball cap. Apart from that, the rest of his attire is super simple!

Long Hair Wig for Men

You will need to trim this up a bit since Wayne's do isn't that long

Black Basic Roundneck Tee

Nothing could be more easy than a plain black tee. I'm sure everyone has one in their wardrobe

Ripped Jeans

Here's a pair of holey jeans.
Dress up as Garth Algar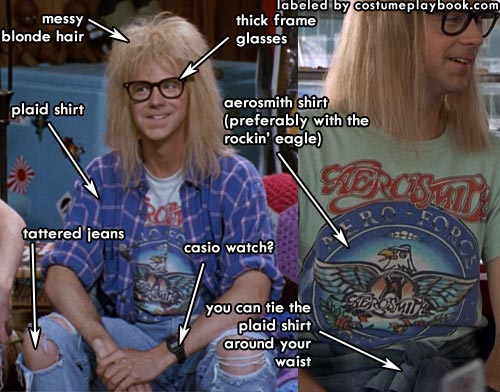 Garth is the quieter sidekick of Wayne. Costume-wise, dressing up as Garth is more fun because it involves a lot more pieces. He is played by Dana Carvey, who is most famous for his SNL antics.
Blonde Rocking Dude Wig

You might need to tame this up a bit as Garth's hairdo isn't this shaggy, but the main gist of it is there

Thick Square Frame Clear Lens Wayfarer Glasses

These glasses are similar to the ones the metalhead wears

Plaid Shirt

Any plaid shirt should do. You can either wear it or tie it on your waist




Aerosmith Rockin Eagle Tee

You have probably, at one point in your life, asked what shirt Garth wore. Well, it's an Aerosmith shirt featuring the Rockin' eagle (an eagle with headphones) and a caption that reads Aero Force One. Based on this photo, this shirt design features all of that!

Casio Digital Watch

It appears that Garth sports a digital watch like this classic one.

Distressed, Tattered Jeans

Like his buddy, Wayne, Garth wears jeans tattered on the knee area