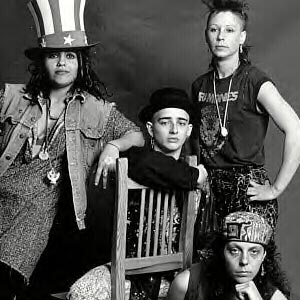 Wake in the morning, step outside, take a deep breath, and get dressed as Linda Perry, the singer from the one-hit wonder, 4 Non Blondes! Here's how to dress up as the lead singer – be prepared to be amused.
Dress up as Linda Perry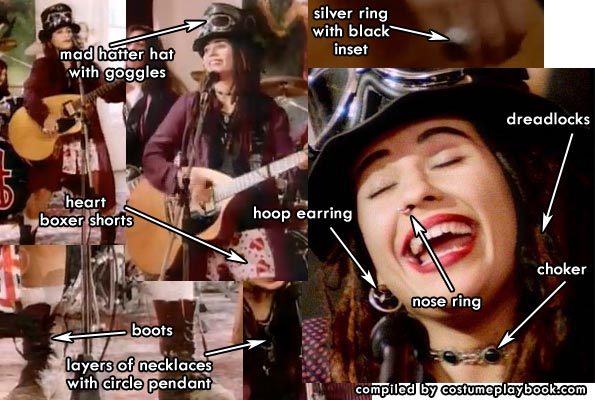 Piecing together Linda Perry's costume is a fun ride! She's got so many pieces going on. Be sure to sing "What's Up" when you enter the room. It will be hilarious and all the 80s/90s kids will sing along!
Mad Hatter Top Hat

The most distinct feature of Linda Perry's outfit in the music video of What's Up is the black hat with the goggles

Speedo Adult Recreation Dive Mask

Why Linda had a pair of goggles on her hat is anybody's guess. Perhaps the studio was underwater? You may need to use a couple of safety pins or some tape to keep the goggles stuck firmly to the hat

Dreadlock Wig

Her dreads adds some more rock star charm

Clip On Fake Nose Piercings

These fake nose rings are perfect for your costume party!

Double Circles w/ Small Peace Symbol Dangle Earrings

Linda's earrings don't really have a small peace sign on them, but the peace symbol just adds a brilliant, hippie touch to your outfit, especially combined with the dreads!

Choker Necklace

Any choker should do as long as it's in black and/or silver

Heart Boxer Shorts

The oddest part of her attire is her pair of heart boxer shorts! But I guess it works nicely with the song's lyrics – it seems like she woke up in the morning, stepped outside, and did the music video without changing!

Long Cardigan

In the music video, she wears a long cardigan-like jacket that is unbuttoned to reveal her boxer shorts and a plain black top. The jacket is more like a dark red/brown polka dot piece but this one works nicely too!

Women's Combat Boots

You gotta wear lace combat boots! And make sure your white socks are sticking out on top of them like Linda's. These combat boots remind me of Daria.
* Author's note: because of this guide, I have been singing the song in my head all day long!
Sing with me:

Trivia
The band contributed a song to Wayne's World 2 called "Mary's House". Yes, they had more than one song!