Want a mother + daughter duo costume that's quick, easy, and budget-friendly? Look no further! Dreamworks' Home is for you!
Table of Contents: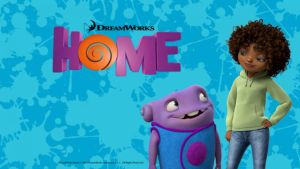 Dress up as Gratuity Tip Tucci
The main (human) star of the show wears very simple outfits – a pair of slim jeans and then for the top – usually a hoodie or a tank top over a long-sleeved shirt. The guide below shows her most distinct green hoodie outfit, which is shown on the official posters.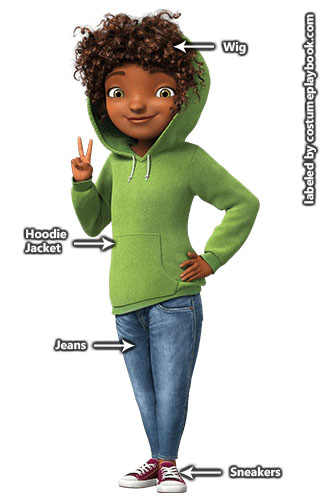 Curly Hair Wig

Gratuity's hair is short and curly. I'd go for a slightly brown shade (you can select which shade you prefer on the link above)

Green Hoodie

This hoodie fits the bill perfectly! Like Gratuity's piece, this hoodie is a pullover and it has that pocket detail at the bottom. The apple green shade is almost exactly alike too. Match this with a pair of your favorite comfy slim jeans and you're good to go!

Maroon Sneakers

Wear a pair of maroon-colored sneakers to finish off the look

Oh Boov Plush

Now for the cutest part of your costume – bring your very own shape-shifting alien with you! This Oh Boov plush is a tiny 6 inch doll but should do the trick.
Dress up as Lucy Tucci
Gratuity's mom has a very simple getup as well – cardigan and jeans. How much easier can this mom-and-daughter costume idea get? You may want to get a wig for a straight wavy hair, but if you already have naturally straight hair, then you're good to go.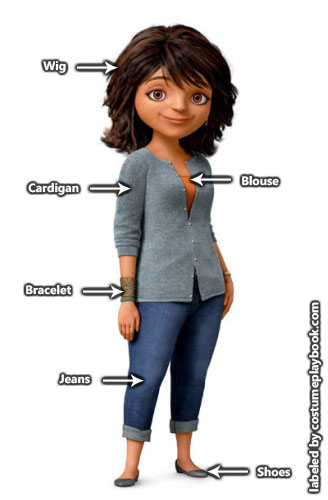 Cardigan

I'm sure you have a cardigan in your wardrobe already, so feel free to use that. I'd go for any blue or gray shade. This one is a nice cashmere piece that has gotten a lot of good reviews. Keep the first few and last few buttons unbuttoned.

Orange Tank Top

Wear a basic orange top underneath the cardigan. Wear with a pair of comfy jeans folded up a tad. Finish off with a pair of ballerina flats.
Other Outfits of Gratuity Tip Tucci