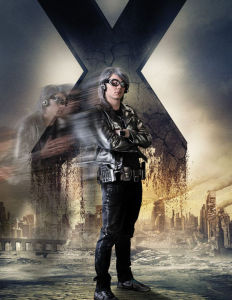 Dress up as Peter Maximoff aka Quicksilver
Quicksilver (Peter Maximoff) is, by far, the most interesting and quirky character I have ever seen on the X-Men cast, in my opinion. He's a very refreshing character amidst all the other angsty, serious mutants hehehe. His costume also reflects his interesting personality so you're bound to have fun dressing up as him. Girls, feel free to dress up as a female version – that would be really cute!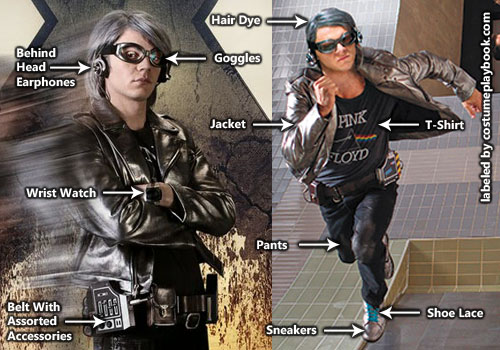 Silver Gray Hair

Peter sports gray / silver hair. I wonder if his lightning speed makes him age faster hmmm

Goggles

In several scenes, he sports a pair of goggles

Behind the Ear Clip Headphones

He always enjoys a good soundtrack whenever he runs about and does his business

Pink Floyd Shirt

Gotta love Quicksilver's taste in music! He sports a Pink Floyd Shirt based on the band's famous, Dark Side of the Moon album set.

Metallic Silver Jacket

To tie in with his name, he even sports a silver jacket. Was super stoked to see this! This has a very nice metallic finish to it. Peter wears a simple pair of jeans

Utility Belt

He has a utility belt which contains his walkman, duct tape, and a pouch.

Silver Walkman

Here's a nice Walkman that ties in with his motif.

Tool Pouch

Here's a tool pouch / holder you can attach to your utility belt.

Silver Sneakers

He wears sneakers that are colored (you guessed it) silver, with blue laces on them

Blue Shoelace

For that extra touch, replace the sneaker's laces with these light blue ones.