Table of Contents: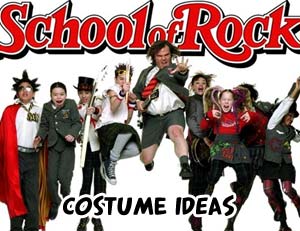 Rock it out with Jack Black and his group of talented students! A few key pieces and you're good to go. It's also a great idea for large groups. Remember: "rock is about the passion, man!"
Dress up as Dewey Finn (Jack Black)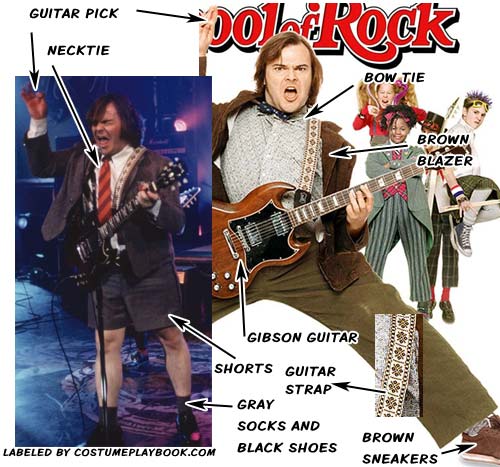 Levy's Leathers Hootenanny Style Guitar Strap

I was so happy to have found this! After a lot of research and time clicking here and there, I finally found the guitar strap that looks like the one Dewey had on his guitar. Seems to be an exact match, what do you guys think? I'm pretty sure the strap on the movie is a Levy's too because of the "L" logo

Dunlop Guitar Picks (Pack of 6)

Any guitar pick should do, this is just for an extra prop. This pack costs less than 3 bucks.

Gibson SG Electric Guitar

Based on sources, Dewey's guitar of choice is a Gibson SG. Now if you're only planning to bring a guitar as a prop then this might be too expensive a prop for you. Any guitar should do, you just need to get the whole vibe going anyway. On the other hand, if you're really a collector or a guitarist, then you can check this one out

Red Striped Neck Tie

For Dewey's performance, he wears a red striped neck tie, the grey school blazer, and a pair of grey shorts, as shown below

Brown Corduroy Blazer

His other outfit is a brown corduroy blazer with a white top inside, and a dark blue bow tie

Dark Blue Bow Tie

A plain inexpensive blue bow tie like this one should do the trick!
Dress up as Katie "Posh Spice" Bassist (Rebecca Brown)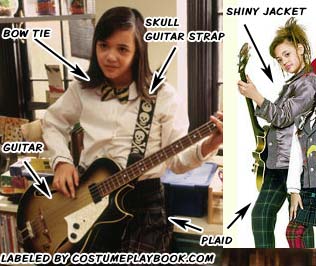 Skull Guitar Strap

Katie is the bassist of the band and wears a skull guitar strap.

Blue / Yellow Striped Bow Tie

For the cute preppy school uniform look, she wears a blue/yellow striped bow tie like this one and a simple white button down shirt.

Green Plaid Pants

During the performance, she sports a pair of plaid pants – this is also shown on one of the movie posters.

Silver Blazer

She wears a metallic, shiny silver blazer for that rock star glam look!
Dress up as Summer Hathaway or as any of the characters in their School Uniform
Summer Hathaway (played by Miranda Cosgrove) wears the basic school attire throughout most of the movie since she is just the manager of the band. These are also the basics you can buy to dress up as any of the other students in School of Rock. If you want to cheat, you can just have one on your group dress up as Dewey Finn, and then have the rest of the group wear a generic school uniform attire.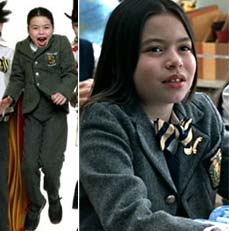 Calvin Klein Stylish Gray Blazer

A beautiful gray blazer like this one is a modern, stylish interpretation of the school uniform the cast sported during the movie (and in some promotional posters) I'd totally wear this on normal occasions

Women's Gray A-Line Skirt

A simple A-line skirt fits the blazer above. Wear a white button down underneath and you're good to go! The plus is these are pieces you can wear to work.

Blue / Yellow Striped Bow Tie

The finishing touch: a uniform bow tie. Nice and preppy!

Men's Plaid Pants

In the movie, the boys wear a pair of plaid pants to school
Dress up as Lawrence "Mr. Cool" – Keyboardist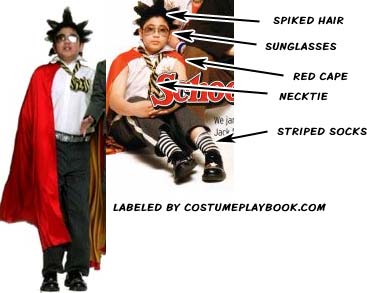 Black Spiked Hair Wig

Lawrence has the kookiest costume among the bunch. The first part of his crazy ensemble: extremely spiky hair!

Red Cape

Was Timothy a superhero? No, he was a super keyboardist so he deserved the red cape!

Black and Yellow Striped Necktie

Like Lawrence, wear it over the cape and keep it relatively loose. After all, it's a rock concert, not a job interview!

Black / White Striped Socks

Dude loves his stripes! He even wore black/white striped socks!
Dress up as Freddy "Spazzy McGee" Jones – Drummer
I've always been fascinated with drums so I especially liked Freddy's character. PS. He looks a bit like Draco Malfoy don't you think? A rocker version of Draco that is.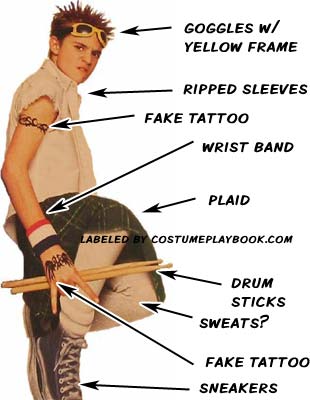 Yellow Sunglasses / Goggles with Yellow Frame

Not to be outshone by the keyboardist, Freddy wears a couple of crazy pieces too! First, a pair of goggles with a yellow frame! Because you will drown in his awesomeness once he starts to play

Red, White, Blue Wristband

On the right wrist, he sports a wristband to help keep your eyes on his awesome drumming skills

Drum Sticks

Remember to bring a pair of drum sticks as your prop! Any pair of drum sticks should do

Fake Tattoo

He sports a fake tattoo on his right arm as well. This barb wire will do the trick and give you that fierce rocker look. Be sure to wear a white sleeveless button down. If you don't have one, just roll up the sleeves of one of your short-sleeved button down shirts. Freddy actually has that torn sleeves look but if you don't want to waste a good shirt, you can just skip that step.

Fake Tattoo #2

He sports another fake tattoo on his right hand, which resembles wings

Green Plaid Shirt

Tie a plaid shirt around your waist. Aah, 90s at its finest!

Sweatpants

My guess is Freddy wears a pair of sweatpants underneath. Bunch up the bottom a bit like the photo above
Dress up as Marta "Blondie" (Caitlin Hale) – Choir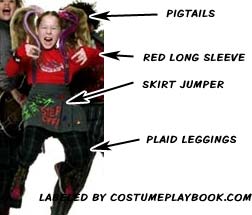 Pigtail Wig

Marta was so adorable! Even while harnessing her rock star attitude, she still looked so cute! She had her hair up in poofy pigtails during the performance, similar to this wig

Pink Hair Extensions

She had a few pink hair strands here and there

Skirt with Suspenders

Marta wore a cute skirt jumper over a basic red long sleeve shirt

Plaid Leggings

Marta wears plaid leggings underneath the overalls
Dress up as Zack "Zack-Attack" Mooneyham – Guitarist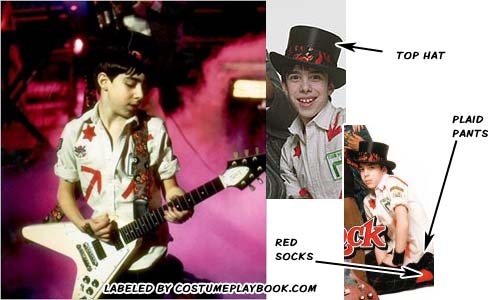 Black Top Hat

The crazy outfits keep rolling in! For Zack, get yourself an ordinary top hat then tie it with the animal print scarf below

Animal Print Scarf

This one looks similar to Zack's

Black Wristband

Zack is team wristband just like Freddy! A plain black one will do the trick

Plaid Pants

Notice that Zack's pants are a bit shorter than the usual length, so the red socks pop out. Just fold your pants to achieve this look

White Inflatable Guitar

Zack used a really cool white electric guitar. Of course, a piece like that would cost a fortune, so how about substituting it with an inflatable guitar?
School of Rock Reunion Concert
After 10 years, the cast of School Rock reunited for a concert to rock out "Teacher's Pet". Watch and enjoy below! They have all grown up and look gorgeous. And they are all still talented as heck!
This is my final exam
Now ya'll know who I am
I might not be that perfect son
But ya'll be rockin' when I'm done!
And on a final note: I now feel a wee old haha.