Strike terror and fear when you dress up as Pennywise or Georgie Denbrough from hit horror movie remake, IT. I got chills just making this costume guide!
Table of Contents:
Dress up as Georgie Denbrough
Who would have thought protective rain gear could ever be so creepy?
Possible props to bring: red balloon and paper boat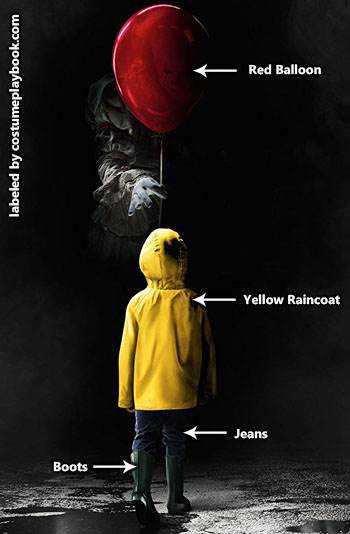 Yellow Raincoat

The victim wears a yellow raincoat. Inside, just wear a basic white tee and basic jeans. Among all the raincoats online, this trench version had the best reviews. It's a bit longer than what Georgie wore, but should be perfect just the same. Plus, you can totally use this for rainy days

Rain Boots

A pair of rain boots is all you need – ultra practical! The one Georgie wears is dark green, but a black one should do the trick as there are more cheap rain boots in black, available online

Red Balloon

Finally, bring a red balloon along with you.
Dress up as Pennywise (Bill Skarsgård)
Props to Bill for making clowns look even creepier than they already are in the first place!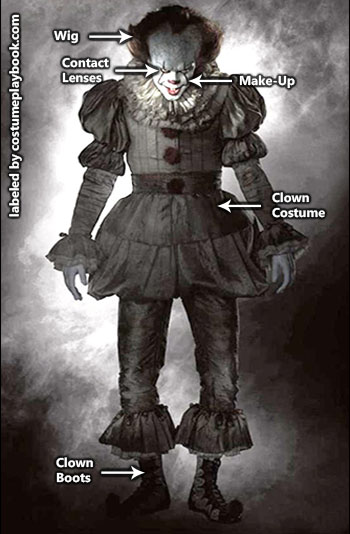 The face is the most important part of this costume – here is a closeup so you can follow the red makeup closely. You may also want to get a pair of yellow colored contact lenses: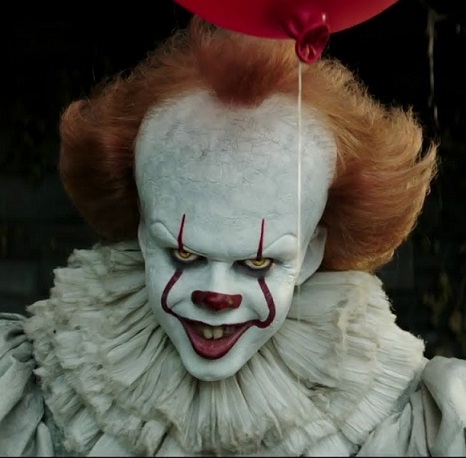 Balding Orange Wig

First up is his hair. Lucky for us, someone already made a replica of his hairdo. On its own, this wig looks very comical actually, but once you finish everything, you'll look anything but! This will have a bald cap part which will probably not match the complexion of your face perfectly, but that's okay because you'll be applying white makeup on your face anyway

White Clown Face Paint

Apply liberally onto your face. When you click on this, you will get the option to bundle with a setting powder. You may want to do so as the setting powder will allow for all day coverage.

Red Face Paint

Using red face paint and a brush, draw lines onto your face and color a portion of your nose in red

Pennywise Cosplay Outfit

Because of IT's popularity, somebody already made a replica of the costume. Based on reviews, the sizing isn't perfect, but someone posted a photo of himself in the cosplay and it looks pretty good. That being said though, this is pricey, so it will all depend on how much you really want the accuracy!

Horror Clown Outfit

Another option is to wear a more generic horror clown outfit like this one. It has the huge button details and the ruffled collar and while it definitely isn't a replica of Pennywise' outfit, I think your makeup and hair paired with this one should carry it across already, if you're going for a slightly cheaper alternative.




Fangs

To look extra gruesome, you can put some fake fangs. Just beware: it will be a painful process, as expected