Table of Contents: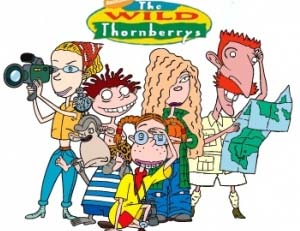 Let's venture into the wild and dress up as the adventurous Thornberry family! This is a great costume idea for families or other large groups. Pet chimp optional
Dress up as Eliza Thornberry
Eliza Thornberry loves their family's nomadic lifestyle! Especially since she gets to converse with more animals – a talent she was able to gain when she saved a shaman. She has a lot of distinct features including her braided pigtails, braces, and freckles. For the freckles, use a brown eyeliner. Additional prop idea: binoculars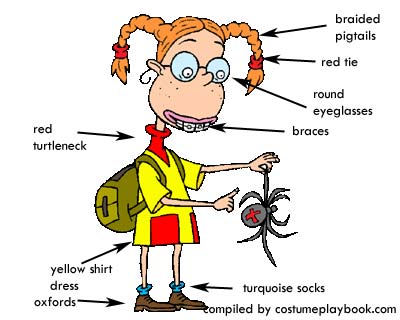 Braided Wig

Tie the pigtails with the red hair elastics below. You can reuse this wig for an

Anna (From Frozen) costume

!

Red Elastic Band

Tie on both ends of the braid

Fake Teeth with Braces

This is a pretty interesting costume piece! This is basically a set of fake teeth with braces plastered onto them to make you look even more like Eliza

Eyeglasses with Thin Round Frame

This looks exactly like Eliza's eyewear!

Yellow Shirt Dress

Wear a Yellow shirt dress. Consider buying 1 size looser than your usual as Eliza's dress isn't very form-fitting (also, so you can wear a red turtleneck top underneath)

Red turtleneck shirt

Wear a sleeveless red turtleneck shirt underneath your T-shirt dress

Red Elbow Patch

Want to mimic the red pocket details on Eliza's dress? Consider these elbow patches.

Light Blue Socks

For that added detail, consider wearing a pair of bright blue socks like Eliza's

Brown Lace Oxford Shoes

My guess is that Eliza wears a comfy pair of brown oxford shoes like this pair. This one is pretty inexpensive for shoes and the shoes look cute too!



Dress up as Darwin Thornberry
For Eliza, a chimpanzee is a girl's best friend! She finds Darwin to be a bit of a scaredy cat (err… scaredy chimp) as he is rarely on board with her escapades.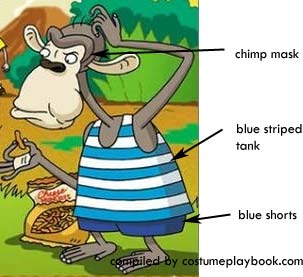 Chimpanzee Mask

Darwin was adopted by Eliza and he is actually a chimpanzee! Not just any primate, he's an intellectual one with a British accent to boot. It will be a riot if you dressed up as Darwin and brought along a friend to dress up as Eliza.

Blue Striped Tank

He wears a blue striped tank which he actually stole from Eliza's sister, Debbie!

Primate Feet

For an added primate effect (and hilarity), you can even dress your feet up!
Dress up as Debbie Thornberry
Unlike Eliza, Debbie wants to experience an average teenage life and is not as "wild" about the whole nomadic lifestyle. Her outfit is actually really cute, and I would wear it. For additional props, you can bring a teen magazine or headphones and act all nonchalant.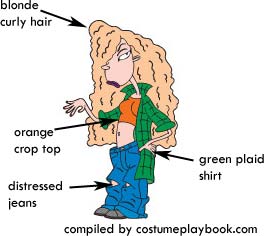 Dress up as Sir Nigel Archibald Thornberry
Ahh Nigel. Where do I begin? His incredibly big nose? His accent and trademark words like "Smashing!" and "Poppit"? He is certainly one memorable cartoon character and he has inspired quite a lot of memes too, such as this question… "On a scale of Voldemort to Nigel, how big is your nose?" Hahaha!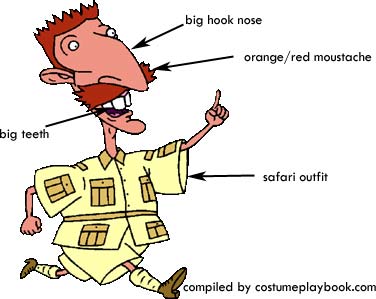 Huge Nose

Sir Nigel has a ridiculously large nose. It should actually be even bigger than this nose I'm featuring but this will have to do. Plus the shape of the nose fits Nigel's well!

Orange Mustache

Actually, Nigel's mustache is a lot stranger than this one. It looks like 2 brooms sticking out from each end!

Teeth

He also has crazy huge teeth!

Safari Shirt

Get a safari shirt just like this one!

Safari Shorts

A safari top needs safari bottoms of course!
Dress up as Marianne Hunter Thornberry
Marianne is the one behind the video camera and is quite a resilient woman. She is also pretty hip – her outfit shows her midriff!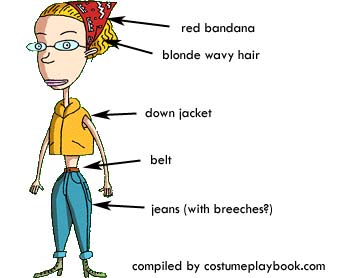 Red Bandana

Marianne keeps her hair neat by wearing a red bandana

Short Blonde Wavy Hair

She has short wavy hair. You can actually skip this since you will be wearing the red bandana anyway. If you have very long hair, simply tie into a bun.

Glasses

The frames of her glasses are an oval shape.

Yellow Down Vest

She seems to be wearing a yellow down vest (or a life vest). This one looks really cute, and you can wear it during cool seasons. You can also opt to buy a life vest instead though between a life vest and a down vest, the latter would be more useful (unless you live in the great outdoors like the Thornberrys)

Rider Jeans

Any pair of jeans will have to do. I chose these rider jeans because in the cartoon, there seems to be an exaggerated curve on the upper part of the jeans, that resemble breeches. Wear a simple brown belt as well