The sequel of the Kingsman Movie did not disappoint! Check out how to dress up as the most bad-ass gentlemen you'd ever meet – featuring Eggsy, Harry (yes, he's still around!), plus the cast of Statesman, their US counterpart! For now, I've only done the guides of Eggsy, Harry, and Ginger Ale, as they are the most distinct.
For costumes on the 1st Kingsman movie, click here
Table of Contents:
Dress up as Gary "Eggsy" Unwin / Galahad (Taron Egerton)
Eggsy is looking as dashing as ever, his confidence mimicked in his choice of suit – an orange suit that looks almost velvety. The shade of his orange is deeper and with a red tinge, unlike the orange tuxedo worn by another famous character who didn't look cool at all, and looked dumb even (reference to Jim Carrey of course hehe).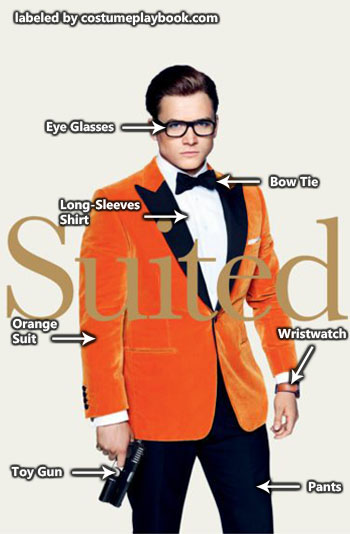 Red/Orange Tuxedo Suit with black lapel

The orange suit is the most important piece to distinguish you as the Eggsy of The Golden Circle. I saw this suit which has the black lapel and the velvet texture, and has very good reviews; however, it is more of a red than an orange. That being said, I think it should be a good enough substitute

Tuxedo Replica

This one claims to be a replica, but I have not seen any reviews specific to the tuxedo replica, and this is a slightly pricier alternative. If you try buying this, do let me know if it's a good buy!

Black Framed Eyeglasses

He is still sporting a pair of eyeglasses with black frame

Black Bow Tie

To look extra fancy, get yourself a black bow tie

Pistol

Get yourself an air pistol
Dress up as Harry Hart (Colin Firth)
I was friggin ecstatic when I saw Harry on the trailer!!! Because let's face it, Kingsman is NOTHING without Colin Firth!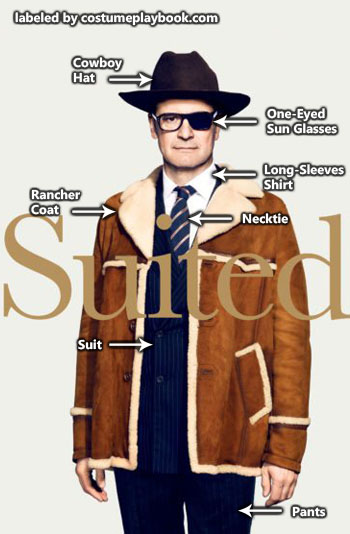 Glasses with Black Frame

The most distinct item he wears is the unique glasses he wears – one eye is a dark lens, the other a transparent lens. You can buy a pair of black-framed sunglasses, then pop out the lens on the right eye

Cowboy Hat

Harry sports a cowboy hat in some scenes. This is an inexpensive piece which has gotten positive reviews

Suede Jacket with Fur Trimmings

Get yourself a nice rustic brown suede jacket, preferably with fur details. This is a hundred plus bucks, because it uses high quality leather – buy this if you plan on using the jacket after the costume party, for daily use

Cheaper Alternative: Corduroy Jacket with Fur

Otherwise, get this cheaper alternative, which still brings the rustic feel across and looks pretty good too. It's cheaper because it doesn't use suede

Navy Pinstripe Suit

Underneath, wear a navy pinstripe suit. This has great reviews, and is relatively cheap considering it is already a 3-piece suit.

Air Pistol

Again, bring an air pistol as a prop
Dress up as Ginger Ale (Halle Berry)
Love Ginger Ale! Aside from the cute name, she has a very nice outfit and overall look, which reminds me of an anime character.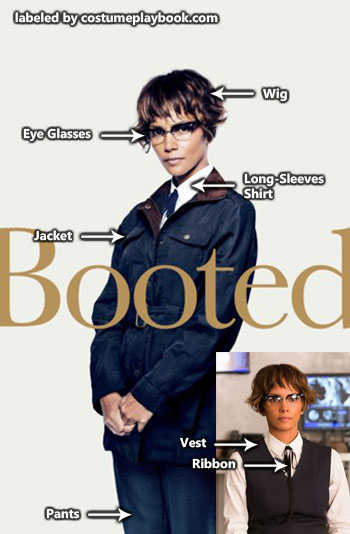 Brown Short Wig

First up, she has a cute hairstyle – short hair with waves at the end. This wig is a bit longer than Ginger's so, you can trim it up a bit. The reviews on this are very good

Eyeglasses with Black Cat's Eye Point

Halle sports a pair of eye glasses with a high Cat's Eye point detail

White Long Sleeved Blouse

I'm sure everyone has one in the wardrobe – get yourself a nice white long-sleeved button down shirt with a collar

Bow Ribbon Tie

And for my favorite piece – a nice thin ribbon bow tie to place underneath the collar

Black Pullover Vest

Wear a pullover vest in a very dark blue or black shade. This runs small so make sure you order size up, especially since you're also going to wear it over the blouse. Wear a pair of dark blue or black trousers and you're good to go!

Dark Denim Coat

Her dark denim coat is optional