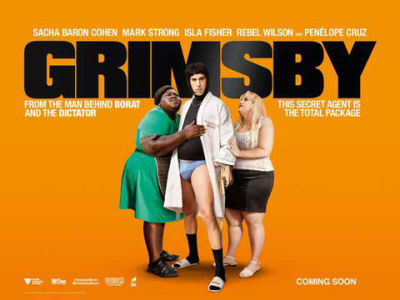 The Brothers Grimsby is another Sacha Baron Cohen classic compounded with the hilarous comedic timing of Rebel Wilson. This is a fun costume for brothers – you'll just have to toss coins to see who gets to wear the better costume (which is better is arguable). It can also be a fun couple costume for Nobby and Dawn.
Table of Contents:
Dress up as Nobby (Sacha Baron Cohen)
This is a very fun costume to piece together. You have two options – the one where you show your, er, "whole package" and the one where you're fully clothed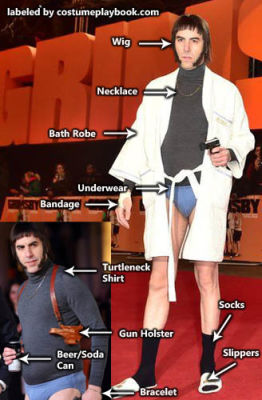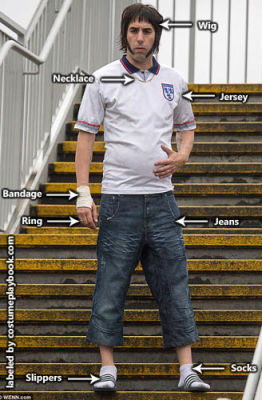 The essential Nobby costume pack:
Wig with Bangs

The first piece is that really weird hairstyle. You can get a wig with bangs like this one, then cut up the bangs so they are a bit shorter. Make sure to make the cut uneven!

Bushy Eyebrows

You can shade your eyebrows thicker with an eyebrow pencil, or you can buy this set of eyebrows to make it extra quirky. Get the one in the middle

Mutton Chops / Sideburns

To make it extra goofy, sport some mutton chops

Fake Belly

A belly is absolutely necessary. If you already have one, congrats!

Chain Necklace

Whether you're going for costume option 1 or option 2, you'll need to sport a gold chain necklace

Toy Gun

Carry a toy gun with you



Nobby Costume Option 1: The package
Click here to see the essential items for your costume – sideburns, wig, chain, belly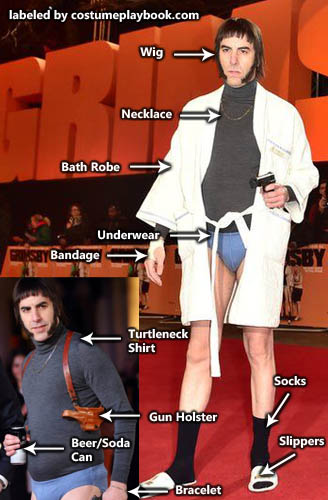 Dark Gray Turtleneck Sweater

For the first option, wear a dark gray turtleneck sweater, which you can actually use again on a normal occasion

Blue Briefs

Now wear blue briefs

Boxer Shorts

You can cheat a bit and wear boxer shorts so it's a little less nippy down there hehe

Hotel Robe

My favorite part! Wear a white hotel robe, keep it unstrapped

Hotel Slippers

Finish off with a pair of open-toe hotel slippers. Wear black socks
Dress up as Nobby Option 2
Click here to see the essential items for your costume – sideburns, wig, chain, belly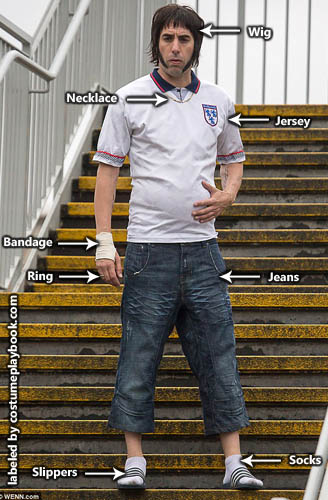 White Polo Shirt

I couldn't find the exact shirt Sacha wore but any sporty collared top with an England emblem should carry the look across well enough.

Loose Dark Blue Denim Shorts

Wear a pair of long denim shorts in a very loose fit

Adidas Sandals

He seems to be sporting the very distinct Adidas design sandals. Wear ankle white socks

White Bandage

Wear white bandage over your right hand like he did in the photo
Dress up as Sebastian Graves (Mark Strong)
Sebastian is the younger, more well-dressed, and overachieving (best MI6 agent anyone?) brother of Nobby. He sports the usual British spy attire. You will need to go to the costume party with Nobby otherwise nobody will be able to tell who you are portraying.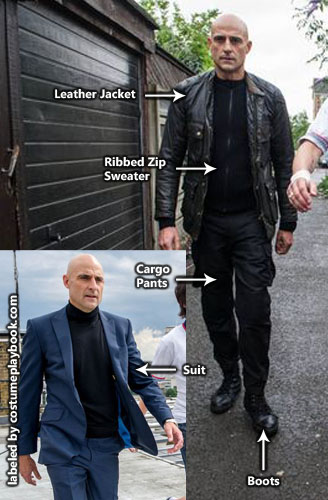 Dress up as Dawn Grobham (Rebel Wilson)
Dawn wears a couple of different outfits in the movie but my favorite has to be that pineapple tank top – Union Jack pants combination. It is such a fun outfit to pull off!