Table of Contents: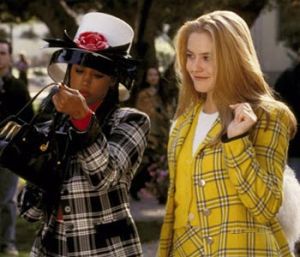 Can anyone be more fashionable than Cher (Alicia Silverstone) and Dionne? As if! I'd be totally buggin' if you said you did not want to dress up like these 2 at one point in your 90s childhood.
Dress up as Cher (Alicia Silverstone)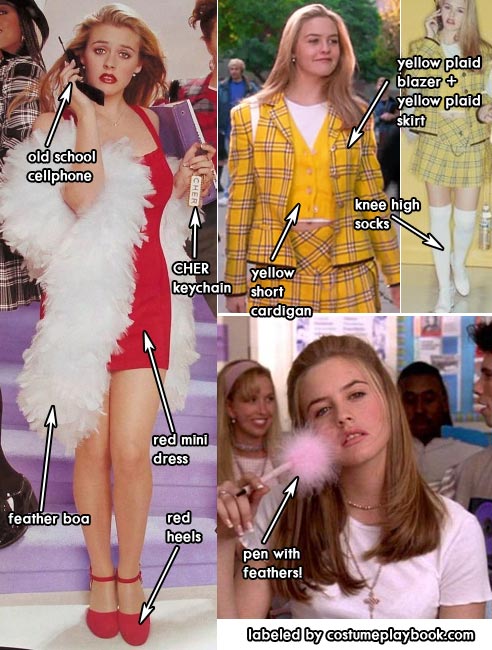 Cher is a bubbly, lovable girl who decided to one day help out mankind (well sorta) by giving a new student a much-needed makeover and playing Cupid to her 2 teachers. Her fashion sense is still very much distinct and I still want to get her cool app that allows her to create her outfit for the day. Come on, people when am I gonna get a decent Clueless dressup app?? Anyway, without further ado, find out how to be as chic as Cher below!
Straight Blonde Hair

Cher's hair is blonde and straight. Take note though that it's straight but not flat. If you already have naturally blonde hair, just blowdry the ends a bit to give it that nice body. In the movie, she usually just had her hair down though she was also seen with a half ponytail and wearing a headband among others.

Retro Phone

Every cool kid needs to have a mobile phone! They need it for fashion emergencies and sales of course. This is a funny large inflatable retro phone that would be perfect for a photo booth prop afterward.

Cropped Yellow Cardigan

Here's a cropped yellow cardigan to show off your midriff. Not comfortable with the idea? Don't worry – an ordinary longer yellow cardigan would do!

Yellow Plaid Blazer

Special thanks to Iggy Azalea for making the Cher costume more popular – because of this, we now have a replica Clueless blazer on Amazon! This even comes with the skirt too. Keep the blazer unbuttoned to show the cardigan and shirt underneath, just the way Cher does it. You can also opt to just ditch the blazer altogether




Yellow Plaid Skirt

This has a cut similar to Cher's and has that school look going on. It's very short so you might want to wear a pair of shorts or tights underneath.

White Knee High Socks

You can't go more school girl than a pair of knee high socks. It's just such a cute look, and I honestly would like to pull it off one of these days I go out

Feather Pen

I've always wanted a pair of these back when I was a kid… Okay, maybe even till now.

White Feather Boa

If you wish to don Cher's hot red ensemble (as shown in the movie poster), then you'd need a fantastic feather boa!

Red Sleeveless Mini Dress

Cher will be caught DEAD before she wore anything that's not designer, but hey, let's be a little cost effective shall we? This hot red dress would get the fashionista's approval and at an affordable price, too!
Dress up as Dionne
Dionne is Cher's equally fashionable best friend. Her outfit's palette revolves around shades of black, white, and red. Her hat is an optional piece to wear; feel free to skip that element.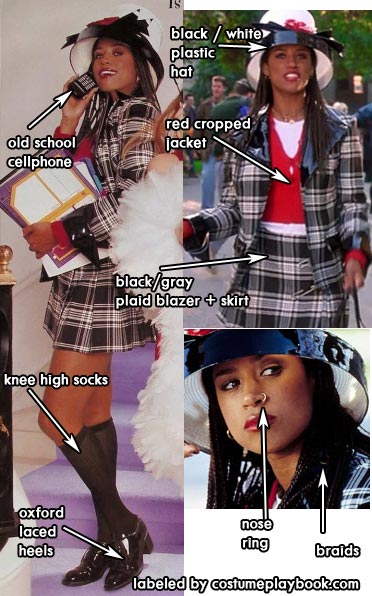 Braided Wig

Dionne sports braided hair. You can actually do this the hard way and braid your hair yourself.

White Top Hat

Ah, Dionne's hat. It was quite a fascinating piece, wasn't it? It was a white plastic hat with a black ribbon, and a red rose. As expected, there isn't any replica of it over on Amazon, but you might want to consider going DIY and decorating your own white top hat?




Fake Nose Ring

Dionne wears a nose ring on her left nostril

Black Plaid Blazer

I love the plaid pattern on this piece and it has a very fashionable cut you can definitely wear to work.

Black Plaid Skirt

Looking for a black plaid skirt is fairly easier than looking for Cher's yellow. This one will look great with a pair of knee high socks and its length is a lot more manageable.

Red Cropped Cardigan

Inside the blazer, Dionne wears a red cropped cardigan (and a simple white tee underneath)

Black Knee High Socks

Again, the knee high socks look is so school girl, so cute!

Black Oxford Patent Heeled Shoes

This pair of black oxford laced shoes with heels resembles Dionne's, and would be a chic addition to your everyday wardrobe. Ideally get a pair made from shiny patent material like this one
Want to find out ALL the outfits Cher wore in the movie? Here you go!