Table of Contents: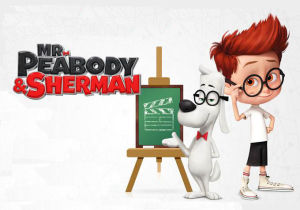 Whether you've been a fan of the intelligent canine since the 1950s when he appeared with Rocky and Bullwinkle, or you're a new fan, here's a costume guide for you. Bring along your canine friend if you have one, or bring along a special female someone to dress up as Penny Peterson. These costumes are very easy and comfy to wear, too!
Dress up as Sherman
Sherman is the ginger-haired adopted son of the most intelligent canine in the planet – Mr. Peabody. Dressing up as him is as easy as enjoying the movie.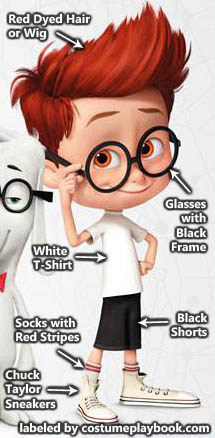 Red Wig

Sherman's hair is a reddish orange hue, but this red anime wig should also do the trick. You will need hairspray to style your hair into an updo. Trivia: The 1950s version of Sherman's hair was more conservative-looking and flat though he did have a bit of hair popping up at the back too.




Glasses with Thick Black Round Frame

Just like his canine father, Sherman sports a pair of glasses with thick round frames. This seems to be the best pair available online for adults, as most people reviewed it fits as expected.

White T-Shirt Pack (Hanes)

Sherman wears a plain white tee. It can't get any more simple than that! I'm sure you already have one lying around, but if you don't here's a pack of 6

Black Shorts

Continuing with the simplicity of this costume is this comfy pair of black shorts from Dockers. Don't you just love this costume?

White Socks with Red Stripes

Based on the photo, it seems that Sherman's socks are just low so you will need to bunch up this pair of knee high socks a bit

Chuck Taylors High Cut

Yahoo to Chucks! Sherman goes old-school cool wearing a pair of what seems to be Converse Hi Shoes. Like Sherman's, these shoes have lines at the bottom

Mr. Peabody Plush Toy

If you don't have a canine friend, you can just bring along a Mr. Peabody plush, just as an additional prop. So adorable!
Dress up as Mr. Peabody
If you have a canine buddy, a bow tie and a pair of glasses instantly transforms him/her into Mr. Peabody. Now if only your canine friend can talk too!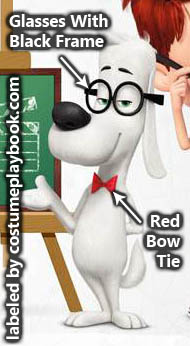 Eyeglasses

These eyeglasses were actually made for humans but many reviewed that they were too small for adults. The measurement is 5.25 inches across the face so you can measure to see if it will fit your furry friend.

3-inch Glasses for Dolls

This pair was intended for 18 inch dolls but should work for some canines. Make sure there are no rough edges on the glasses!

Red Bow Tie for Dogs

Make your canine buddy look as refined as Mr. Peabody with this red bow tie!

This is actually a set of 3 but the price is very reasonable!
Dress up as Penny Peterson
Penny Peterson hates Sherman at first but that all changes later on when they go on their time travel adventure. She wears a very sweet outfit consisting mainly of pink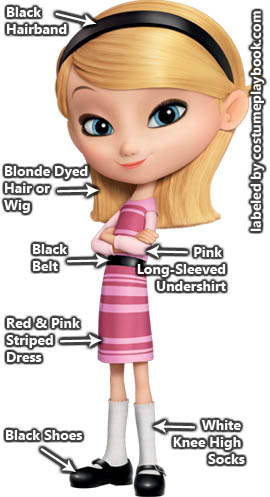 Blonde Wig

Penny has blonde hair that rests somewhere below her shoulders

1-inch Black Satin Headband

She sports a simple black headband to keep her hair in place

Pink Long-Sleeved Top

She seems to be wearing a plain pink long-sleeved shirt underneath a pink and reddish violet striped dress

Short-Sleeved Pink Striped Dress

This has similar sleeves as the one Penny wears, although the stripes are pink and dark blue whereas Penny's is pink and violet. None the less, it does look similar enough. Be sure to buy a size bigger to accommodate the inner long-sleeved top

Pink Striped High Low Tube Dress

Color-wise, this seems to be the most accurate among my picks. Unlike Penny's though, this one is a tube dress. It shouldn't be a big deal since you're wearing a long sleeve top underneath anyway.




Pink Striped Dress with Spaghetti Strap

Penny's dress is actually a short-sleeved number, but this dress has the same youthful look to it and paired with the pink long-sleeved top above, it will work pretty well. Compared with the piece above, the colors of this one are lighter

Black Belt for Women

Penny wears a black belt on her waist

White Knee High Socks

For a school girl look, she wears a pair of knee-high white socks. There are a ton of other

characters you can dress up in the future that also wears knee-high socks

!

Black Mary Jane Shoes

The perfect companion to a pair of knee-high socks? A pair of Mary Jane shoes of course! If you have a pair of pumps at home with heels, that should be fine, too!
Mr. Peabody and Sherman vs. Dexter's Laboratory
Is it just me or does Sherman remind you of Dexter and Penny remind you of Didi? Not personality-wise but more outfit-wise. Dexter and Sherman both have orange hair and that white top / black bottom motif going on. Penny and Didi are decked out in pink (and both have blonde hair). And then, there's that science fiction aspect to both shows. Do you agree?