Kick-ass 2 brought some great new additions to the already awesome ensemble of super vigilantes, and one of them includes Colonel Stars and Stripes, played by the legendary Jim Carrey. Here's how to deck yourself up in his patriotic garb.
Table of Contents:
Dress up as Colonel Stars and Stripes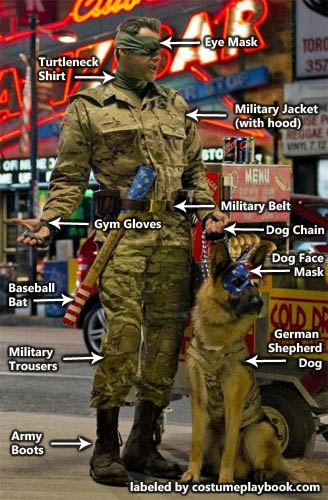 Eye mask

This one is a fabric tie mask like the one Colonel Stars and Strips wore and it's also in the same green color.

Army Green Turtleneck

Underneath the camo suit, Jim Carrey wears an army green turtleneck shirt. You should be able to use this again on normal occassions, when the weather gets cold

Army Jumpsuit

You can opt for a separate two-piece suit (top / trousers) or you can go for an army flightsuit like this one. If you're an avid fan of paintball matches or anything of that sort, then you can use this too! Colonel's suit has a hood in it, but if you don't plan on using it during the party anyway, you can go for this plain version

Military Belt

Another easy piece to the costume – a standard black military belt with a brass buckle

Fingerless Gloves

To help him get a better grip on his weapon (and to make him look more kick-ass), he sports a pair of finger-less gloves. If you'd like to be even more accurate, you can stick an American flag patch on it as well as some stars

Baseball Bat / Weapon with Stars and Stripes

My favorite piece to this costume! The colonel's weapon looks like a baseball bat but with stripes painted on one end, and stars on the other. Aside from that, there is something printed in the middle. This piece is an actual prop replica from NECA, the leader in making prop replicas from movies. The replica is made from foam – which is good because you won't get accosted for possession of a deadly weapon… unless of course you planned on going vigilante

Combat Military Boots

To complete your look, wear a pair of black military boots and you're ready to kick some arse!
Dress up as Eisenhower
Stars and Stripes Dog Mask

If you can find a German Shepherd dog to tag along with you during the costume party that would make your look even more accurate. Otherwise, just sport your best canine buddy with this dog mask.

Dog Chain

Use a heavy duty chain like this one to hold your dog