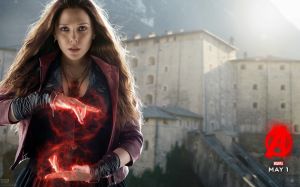 Look very cool dressed up as Elizabeth Olsen's Scarlet Witch from the superhero flick, Avengers: Age of Ultron!
Dress up as Wanda Maximoff / Scarlet Witch (Elizabeth Olsen)
Scarlet Witch is in my top 5 list of costumes I'd like to don this year. I mean just look at her outfit – it's rocker chic! I also find it fun that she wears so many trinkets. Not to mention, Scarlet Witch is one very formidable avenger.
Makeup: dark eyeliner, dark red lipstick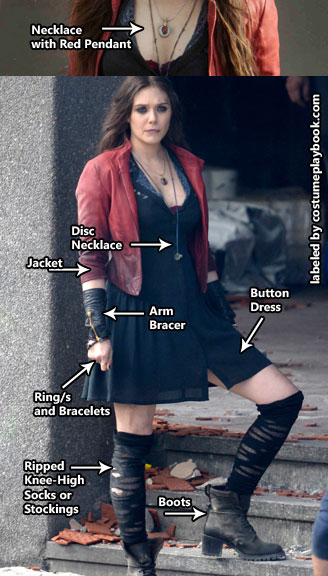 Red Faux Leather Motorcycle Jacket

The piece I absolutely want to get for myself is her red motorcycle jacket. This piece by Lock & Love is so perfect I can almost see Elizabeth Olsen wearing it in my head! Just take a look at that gorgeous, striking shade of red! Plus, the reviews have all been very good! (Sorry, I can't stop raving about this. I have an obsession with jacets)

Gothic Wing Pendant Necklace

One of the things that truly stand out from her outfit is her red pendant necklace. You can let your imagination and taste help you decide what kind of pendant you want as long as it contains a red stone.

This one has a bit of a gothic vibe to it and features a winged heart. I love how the red stone is just peeking out, just like the quiet power that Scarlet Witch possesses.

Sophisticated Take on the Red Pendant Necklace

This second option features a more sophisticated style – which you can use on a formal event at another time.

Black Faux Leather Long Fingerless Gloves

Scarlet sports a shorter leather armband, but unfortunately, I was not able to find a really nice one in the exact same length of hers. So instead, I would recommend these long fingerless gloves, a portion of which would be hidden behind your red jacket anyway. The faux leather looks luxurious and soft enough, the price is affordable, and reviews are positive. Aside from this, she also sports several bracelets and rings and you can freely just choose a couple from your personal collection

Black Studded Gauntlets

The other option is a heavy duty pair of wrist gauntlets, which has a shorter length. Take note that unlike the one above, this will be a bit more stiff.

Long Disc Pendant Necklace

If you notice, Scarlet Witch actually has 2 necklaces – the 2nd one is much longer and focuses mainly on a drilled disc pendant, with what appears to be several other beads beside it. I saw this nice long necklace which features an antique disc pendant with a tree. It's not an exact replica by any means but it should give off the vibe you need.

Black Dress

Wear a black dress with a V neck cut, a tight bodice, and a loose skirt

Dark Red Lace Bra

As an extra detail, reveal just a bit of the red lace bra on the V-neck area

Black Tattered Knee High Socks

It seems like Scarlet Witch wears 2 layers of ripped stockings, based on the photo above. You can just stick with one pair. Using a pair of plain stockings, create the runs yourself (tutorial below). The other option is to buy this nice pair of tattered knee high socks. Bunch up the top up a bit

Black Combat Boots

A pair of low black lace boots finishes off this awesome outfit. Scarlet Witch dons a pair with heels like these booties, but feel free to find a low cut one for comfort's sake. Undo the lace on the first few at the top to make it look a little more casual
Tutorial: How to make Ripped Stockings
You can make your own ripped stockings by viewing the video tutorial below.