Table of Contents: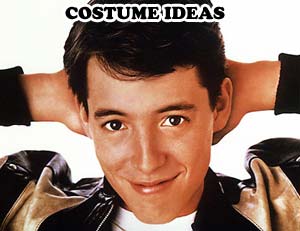 Dress up as Ferris, Sloane, or Cameron and relive their adventurous struggle to take it easy for one day… and relive the 80s too! This is a great group costume for trios, for couples, or for best friends. I must say that even in today's standards, they still look very cool.
Dress up as Ferris Bueller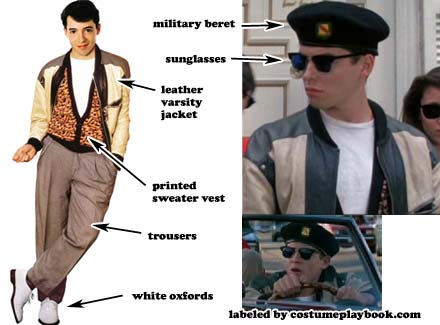 Black Military Beret

An appropriate hat for a man on a mission to slack off from school for a day!

Vintage Wayfarer Style Sunglasses

To keep his identity secret and to look extra cool, he sported a retro pair of sunglasses.

Ferris Bueller Vest Replica!

Ferris wears a sweater buttoned vest with an interesting abstract print. Luckily for us, somebody made a similar vest out of that print! This vest even has that two-tone color block detail like the one Ferris wore; that is, the color on the button area is different from that of the rest of the vest. Underneath the vest, just wear a simple white round-neck tee.

Cream-Khaki Jacket

Any cream/khaki jacket should work; anything that gives off a cool, hip vibe. But if you'd like to make it extra special and over-the-top, consider this awesome replica jacket!

White Oxford Shoes

For extra class, Ferris tops off his whole look with a pair of white oxford lace shoes.

This pair received a lot of positive reviews.
Dress up as Cameron Frye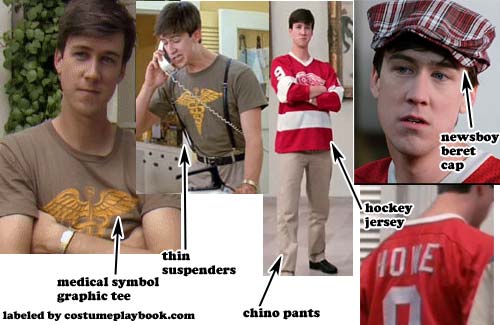 Red Plaid Ivy Beret Hat

Cameron's hat of choice: a red plaid beret hat. A classic look for a memorable day off from school!




Detroit Red Wings Gordie Howe T-Shirt

Interestingly enough, he pairs the hat with a casual Red Wings jersey. It wasn't just any jersey though – it was a Gordie Howe jersey! It had the Red Wings logo on the front, and HOWE at the back with the number 9. This one has the red wings but not the HOWE on the back

Haggar Men's Chino Pants

Another paradox to his outfit – a pair of office-attire worthy chino pants. Did this whole look influence

Pat's outfit in Silver Linings Playbook

?

Caduceus Medical Symbol Graphic Tee

In his other memorable outfit, he wears a tee-shirt with the Caduceus medical symbol. His is a brown/army green shirt with a gold print. This one bears a close enough resemblance.

Thin Black Suspenders

What does he pair the graphic tee with? Thin suspenders! Didn't see that one coming now did you? His bottom is still a pair of chino pants and a belt.
Dress up as Sloane Peterson
I love Sloane's outfit! I think it's very chic. I also love the fact that her shorts aren't too short for comfort. Check out how you can score her look below.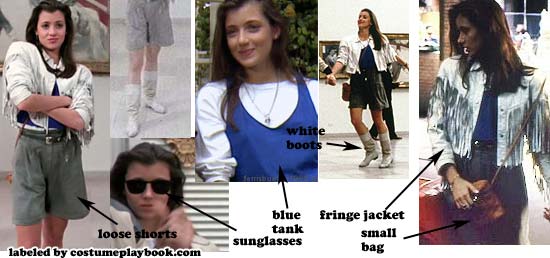 Wayfarer Sunglasses

Just like her beau, she sports a vintage pair of sunglasses. Get the black frame.

Blue Tank Top

She wears a blue tank top over a white long sleeve crewneck shirt

Fringe Jacket

The most distinct element on Sloane's outfit? The white fringe Cowboy jacket! This piece mimics the cowboy-rugged style that Sloane's piece had.

Small Brown Messenger Bag

She carries a small messenger bag with her – a great costume piece AND practical choice – I don't know about you, but I can never leave my house without a bag around me!

Dickies Women's Flat Front Short

A pair of shorts with a relaxed fit like this one would be a good choice

Flat White Boots

Last but not the least, Sloane wears a pair of white boots! Based on the photo, it seems her boots also have a ruched detail like this one.
Trailer: Ferris Bueller's Day Off
How old school can the trailer get?