Jurassic World
Dress up as Owen Grady (Chris Pratt)
A rugged, outdoor outfit and a smolder are all you need to dress up as Chris Pratt's Owen Grady! For the bottom, a pair of jeans should suffice.
Makeup:
- achieve the scruffy look with light strokes from black eyeliner. Or, even better – grow one!
- want to look beaten up? Check out the image above and mimic his wounds on the arm and face using some red eyeliner
Couple costume idea: Dress up as Claire and Owen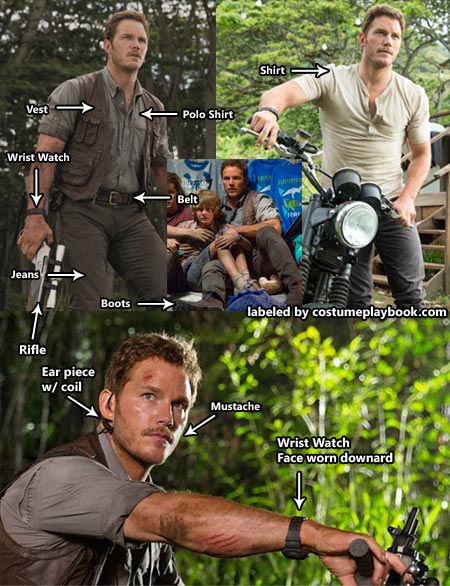 Safari Vest

The most important piece to your costume is a utility vest, preferably in a shade of gray, dark brown or dark green. Keep the vest unzipped just like in the photo above

Leather Utility Vest

If you look carefully, Owen's vest is actually made from leather. Naturally, that makes it more expensive so you can improvise with a lighter / more affordable utility vest like the one above. If you'd like to go for accuracy though, you may want to check this one out, which was particularly patterned after the one Owen Grady wore.

Brown Mustache

He wears a thin mustache. You might need to trim this a bit.

Long Sleeved Shirt

Get yourself a rugged button down long sleeved shirt and wear underneath the vest. The zoomed-in photo shows his long sleeve shirt is a shade of blue, whereas in some scenes it appears to be more of an army green shade (see below). Fold up your sleeves and button up the sleeve-keeper just like Owen did

Army Green Shirt

This is a long sleeved shirt in a shade of army green, made from cotton canvas to give it a rugged look.

Brown Belt

Wear a nice belt which you probably already have lying in your wardrobe

Black Sport Watch

Owen wears a black sport watch and there is a distinct way he wears it – only the band shows on the top of his wrist; the face lies below his wrist. I haven't found the exact replica yet (the band seems to have 2 holes, based on the photo), but I think any black sports watch should do the trick. This piece from Casio is pretty affordable at 15 bucks.

Brown Hiking Shoes

If you're going to be chased by an Indominus Rex, you best be wearing a pair of sturdy hiking shoes (not like ahem Claire) like this pair from Timberland.

Air Rifle

Owen's weapon of choice is a rifle. You can bring an air rifle as a prop – just as a prop, mind you!

Black Ear Piece with Coil Cable

Optional: in several scenes, he sports a black ear piece with a coil cable. You can wear one yourself and pretend to be large and in charge.
Other Characters from Jurassic World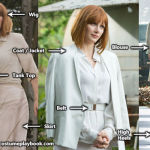 Claire (Bryce Howard)