The Royal Tenenbaums
Dress up as Richie Tenenbaum (Luke Wilson)
The outfit of this tennis prodigy is largely influenced by the sport – headband, wristband, etc. In several scenes, Richie is interacting with a hawk named Mordecai so as an added bonus prop (or secret joke among fellow Tenenbaums fans), you can bring a plush hawk. I love his costume because it's so retro!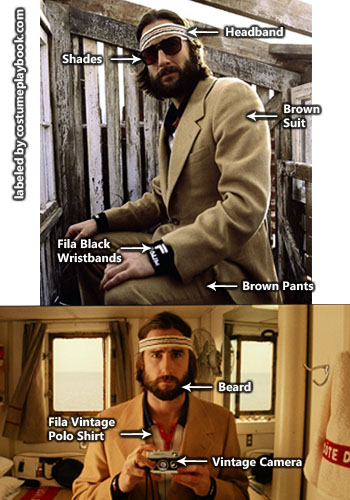 Unisex Fila Retro Headband

Richie is the poster child of Fila, decked in a headband, shirt, and wristband from the brand. This piece looks exactly the same as what Richie wears

Brown Beard

Don't forget his beard!

Fila Polo Shirt

Richie wears a white Fila polo shirt underneath a camel-colored blazer

Camel Colored 3-piece suit

This is a complete set featuring a camel brown tone similar to Richie's

Black Fila Wristband

Richie sports a long wristband on both wrists.This isn't the exact replica but is a close enough match

Retro Aviator Sunglasses

A pair of retro sunglasses is the first part to Richie's overall retro look. Based on photo, the lens is brown while the frame is a darker shade. This tortoise frame is a good choice, and adds an even more retro effect.

Hawk Plush

This 12 inch stuffed toy can add a comical touch to your costume
* Get your girlfriend to dress up as Margot Tenenbaum!
Table of Contents
Click on any of the other Tenenbaums below to view their costume guides.
The Prodigy Siblings