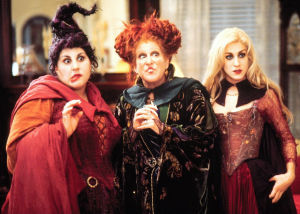 Dress up as the Sanderson Sisters – the three witches from the 90s Disney movie, Hocus Pocus!
Table of Contents:
Dress up as Winifred "Winnie" Sanderson
Bette Midler's Winifred has two key pieces that will make you stand out from run-of-the-mill witches:
1. Her red/orange hair curled up
2. Her buck tooth
There are no exact replicas for her dress, but I offer several options below that should achieve her look. Her actual costume consists of a corset dress, a robe, and then a cloak, but you can improvise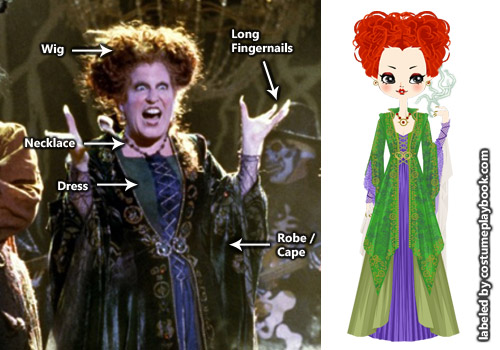 Red Curled Wig

I'm so happy to find a wig that resembles Winifred's hair quite closely! Conveniently, the queen from Alice in Wonderland also sported a similar do.

Fake Bucktooth

For that funny touch, wear fake buckteeth! This one has a yellowish tinge on the photo, which should make you look even more gruesome.

Renaissance Gown

This is my favorite option because of the gold embroidered-like details. Plus this already has a hood so you won't need to get a cloak anymore

Green/Purple Dress

If you notice, the Hocus Pocus witches wear corset dresses that resemble the Medieval / Renaissance Period. Winifred's basic motif revolves around green and purple, so this is a good option.

Purple Corset Style Dress

The other option is this more comfortable option – a corset style purple dress, with the lace detail on the chest similar to Winnie's. This is a more casual type of dress that you might be able to wear again outside a costume event.

Green Cloak

To add more "witchy" detail to your costume, get yourself a green cloak.

Circle Flower Waist Belt

If you notice, Winifred has a nice circle detail on her waist that keeps her robe together. This waist belt should be able to mimic that look.
Dress up as Mary Sanderson
Mary has:
1. a very distinct hairdo that resembles a pointy hat of sorts. So distinct in fact that a replica for it cannot be found! With a good deal of hair styling products and long hair, you can shape your hair into a witch hat just like hers!
2. a mole (or wart?) below her right nostril.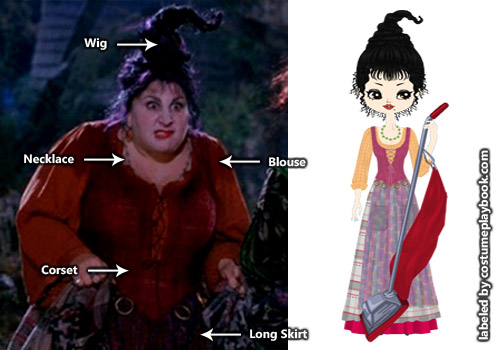 Red Peasant Dress

Get yourself a flowy red dress with tied details on the chest. Get it a tad bigger because you will be wearing something underneath

Orange Peasant Top

Underneath the dress, wear a long-sleeved orange blouse

Red Cloak

Wear a red cloak for extra detail
Dress up as Sarah Sanderson (Sarah Jessica Parker)
The youngest witch is also the prettiest one, and she is named after the actress herself, the famous Sarah Jessica Parker. I must confess it was extremely difficult finding her dress. And compared to the other two sisters, she does not have as many distinct pieces. She has a mole under the right portion of the lip.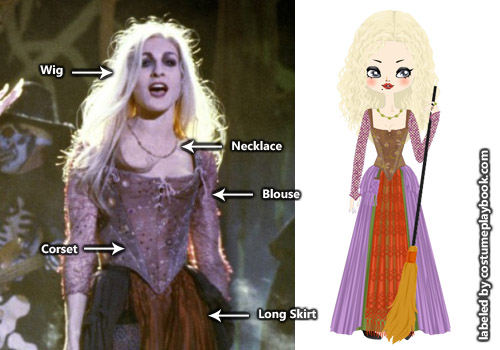 Long Blonde Wig

The beautiful witch has long blonde wavy hair.

Red Pleated Dress

You can wear an inner dress with a nice deep red shade such as this.

Corset Top

On top of the dress, you can wear a corset top for that extra touch. I love this particular shade the most. It is not exactly the same as Sarah's, but I think it should carry that look across