I have a costume… I have a guide… UH! I have a costume guide for DJ Piko-Taro's addicting "Pen Pineapple Apple Pen" music video!
Dress up as DJ Piko-Taro
I'll admit it. I'm obsessed with this song. The first time I listened to it, I couldn't help but smile and play over and over again. So it comes with no surprise that I decided to make a costume guide for DJ Piko-Taro before the many other costume guides I actually have lined up as well. His getup is a bit pimp-like if you ask me hehe.
Makeup: Use a thin black eye liner or lip pencil to draw a thin mustache.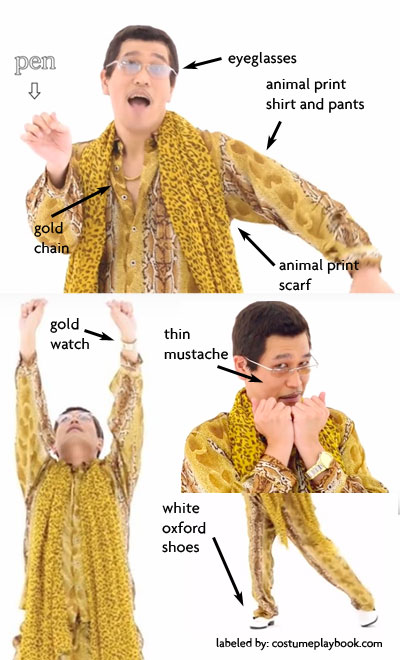 Rectangular Framed Eyeglasses with Tint

Go for a pair of eyeglasses with thin rectangular frames. I think this pair is a pretty good fit but if you can find one with an even lighter brown tint, that would be even better

Gold Chain Necklace

A simple gold chain should do. Here's an inexpensive one

Gold Watch

If you already have a gold watch, feel free to use that. You can actually make do without any watch since it's not really a crucial part of the costume. This is a cheap watch that is definitely going to fade in time, but should be perfect for a costume piece

Leopard Print Shawl / Scarf

Drape a leopard print shawl over your outfit. Do not tie around, just drape over

Snake Skin Shirt

Ideally, you should be wearing a button down shirt with a snakeskin print, but the print is very scarce for men, and this is the best piece I found.

Snake Skin Lounge Pants

Get a pair of comfy (think pajamas) pants with a snake skin print that ideally matches the shirt. If you can find a Pajama set with a snake skin print, that would be even more perfect! These pants were actually intended for women but since the cut is loose, and it just make use of draw strings, men should be able to improvise and use them as well – just pick a bigger size!

Button Down Shirt

Here's another alternative to the snakeskin shirt: buy a women's shirt and buy several sizes larger to fit you. If you're a woman dressing up as DJ Piko-Taro, then this will work even better

White Oxford Shoes

Finally, go for a pair of classy White Oxfords with black heels. Now, all you need to do is memorize the lyrics (which is easy) and the dance!
Now, let's listen and watch for the umpteenth time!