Dress up as Miley Cyrus – The Floral Voice Judge
Okay so Halloween is just a week away and you have SQUAT to wear! Not to worry, take inspiration from Miley Cyrus, buy a bunch of plastic flowers and attach them to a denim ensemble and voila, one nutty The Voice Judge costume coming up!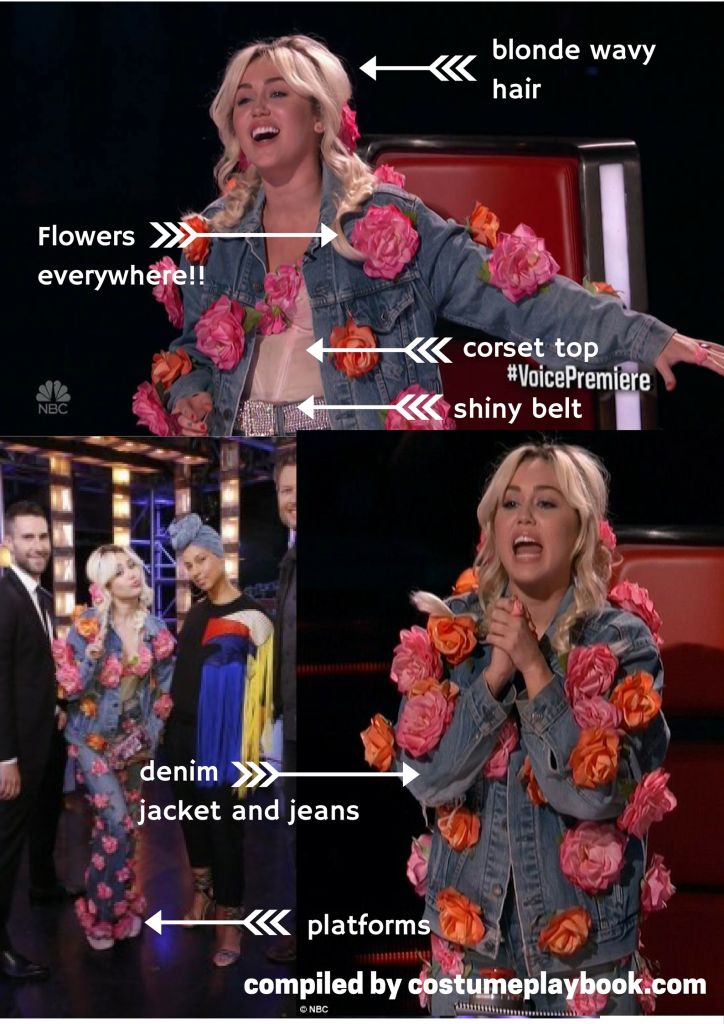 Miley Cyrus is the newest addition to the judges of The Voice (along with Alicia Keys) and while the floral costume looks quite hideous, it (and surprising Miley herself) actually grows on you. If you're fan of this voice competition TV show, then you're sure to be a hit as Miley!
Blonde Wavy Hair

Don some long blonde wavy hair for that sweet, innocent look the youngest judge pulls off. Braid the ends of it

Giant Pink Flower Brooches

Get yourself a TON of these flower brooches and pin them all over your outfit!

Giant Orange Rose Brooches

Get some orange ones too and alternate between the orange and pink as you scatter them all around your outfit

Bustier Crop Top

Miley adds an edge to her sweet, a little too girly outfit with a bustier top, tucked inside the denim jeans

Shiny Belt

A chunky shiny studded belt adds even more personality to the whole outfit

Denim Jacket

If you already have a denim jacket lying around, feel free to use that! Otherwise, here's a nice one you can totally wear on a casual day out (sans the flowers pinned on them, of course). Match with a pair of jeans that closely resembles the color of your jacket

Red Buzzer Button

I'm sure people will recognize you already at this point but if you want to add an extra prop (and make it even more hilarious), you can bring along a red buzzer with you. Make sure you bring along some Miley-isms with you as well