Get punky and perky! Dress up as the ever lovable 80s Punky Brewster, with her mismatched sneakers and bright personality.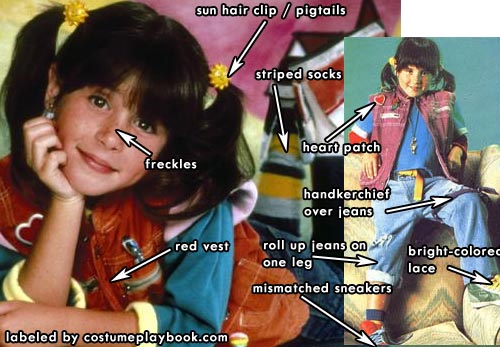 Dress up as Punky Brewster
Punky's outfit is all about mismatched details and bright colors. For your freckles, use any ordinary brown eye pencil. Ideally, wear a pair of jeans with distressed details. Have fun piecing everything together!



Sun Hair Elastic

The sun hair elastic isn't available at the moment, but this yellow sunflower piece is a great substitute!

Carhartt Mock Neck Vest

This is a beautiful vest and I like the additional zipper detail that sort of mimics the zippers on Punky's. It also comes in a very yummy reddish pink shade!




Red Heart Pin

Attach this red heart pin near your right shoulder, just like Punky does! A case of wearing your heart on your sleeve, literally?

Paisley Bandana

Tie this around your left thigh, above the knee. The color pink gives it an extra girly touch

Colorful Striped Socks

Make sure the socks show on the leg where your jeans are rolled up!

Yellow Shoe Lace

Buy yourself 2 shoe laces in 2 different colors and wear on your mismatched sneakers! Once you click on this product, you'll see a couple of other great bright shades to choose from.