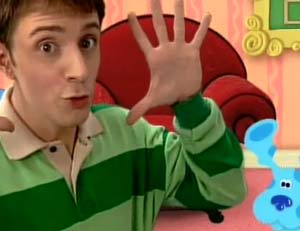 Here's an easy costume guide – dress up as the original best buddy of Blue! You don't need to look far to piece together his outfit – a green striped polo and a couple of Blue's Clue's props are all you need.
Note: Sorry Joe, I only watched the show when Steve was on it
Dress up as Steve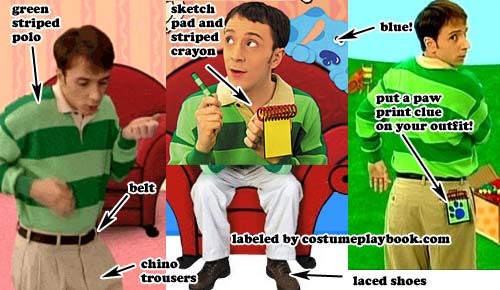 Green Striped Polo

The most important part of his outfit – the green striped polo! Steve's polo shirt actually has 2 green shades on

it instead of the green/white motif of this piece, but this should successfully carry Steve's identity, none the less.

The stripes are very thick, too, just like Steve's!

Handy Dandy Notebook, Striped Crayon, and Paw Shapes

It's time for our… handy dandy notebook! This comes complete with a green striped crayon AND paw shapes. A cute suggestion: stick the paw shape somewhere in your outfit or on the back of your sketchpad so that your friends can shout: "A clue! A clue!" Or you can drive everyone crazy and stick it all over the party venue and act like you're solving the mystery

Ty Blue Plush Beanie

You can also bring a stuffed toy version of your buddy. This is around 6 inches high

Blue Costume for Toddlers

Bringing along your kid with you? You can dress him/her up in a cute Blue jumpsuit. This comes with the headpiece and the jumpsuit has a nice blue tail
Steve says Farewell
In the show, Steve officially says his goodbye and explains he is going to college. Joe is then introduced as his replacement, as Steve's little brother. Check out this behind-the-scenes video which also includes Steve's last scene. It was bittersweet! Bruce Willis shouting "Blue's Clues". Funny stuff!