Dress up as Will Ferrel's Ron Burgundy, the legendary anchorman. Why? Because he's kind of a big deal. And because there's a 2nd movie coming real soon!

His trademark outfit is the burgundy suit. This is the suit you see on the posters, during the first movie, and also in the teaser to the 2nd movie schedule to show later this year! Be sure to remember some of his crazy remarks too like "By the beard of Zeus!" or "Antony and Cleopatra!" or "Sweet grandmother's spatula!"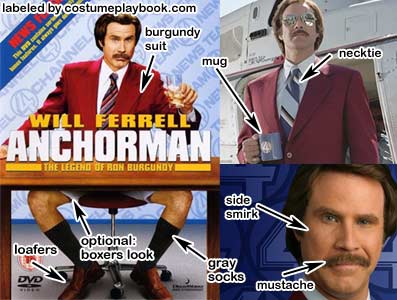 Brown 70s Mustache

Of course – the mustache is the first thing I'm featuring. It's the most crucial part of a Ron Burgundy costume! People say clothes make the man. I say mustaches do a better job! This mustache has that downward curve detail and the line of mustaches have gotten good reviews from previous customers. Be sure to get Ron's sideways smirk down pat.

Brown 70s Wig

To wear a wig or not to wear a wig? This wig is the one that resembles Ron's do the most accurately, though reviews have been mixed.

Don't expect the quality of this one to resemble that of salon-worthy human hair wig. This is just for costume purposes.

This also comes with a mustache already

Burgundy Suit

Ron Burgundy wears a burgundy-colored suit. No surprise there! This two-button blazer looks pretty smart and is relatively more affordable than the usual sport coat. This piece has also been given 5 star reviews from 6 previous buyers, and it seems the general consensus is that it's a piece that you could wear to work or to parties.

Blue Diagonal Striped Necktie

Any diagonal-striped necktie should do the trick. This one has the right feel to it and the colors resemble one of the neckties he wore in the movie.

Burgundy Pants

This pair of pants has a nice modern slim fit to it that you can wear to work

Boxers, maybe?

If you're feeling extra humorous, you can ditch the pants and wear boxers the way one of the photos above depicted it. Be sure you wear a long pair of gray socks to make the look more exaggerated!

Brown Loafers

This pair of loafers resemble the anchorman's shoes and looks very sleek.

News Team Channel 4 Mug

As an extra prop, bring along a Channel 4 mug with you.

Another prop idea? Bring a flute with you, then yell "That's baby-making music, right there!"
Ron Burgundy 2: The Legend Continues
Ready for another dose of Ron Burgundy? Watch as he takes over New York in all his 70s glory:
Stay Classy, New York?