Table of Contents: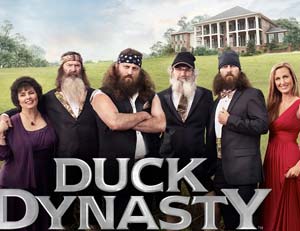 Dress up as the bearded quack pack in the surprising hit reality TV show, Duck Dynasty, whose fourth season premiere is the most-watched nonfiction cable telecast of all time!
Duck Hunting Attire
You can choose to wear some basic duck hunting apparel which the four Robertsons wear from time to time.
Camouflage Long Sleeve Shirt

You can choose to leave this unbuttoned over a plain tee

Camouflage Hunting Boot

Some of the photos below show them wearing hunting boots. The woodland print of the boots resemble this one but if you'd like to save some bucks, a pair of simple black rubber boots would suffice.
Dress up as Phil Robertson
Phil was an all-star football player in his college days but turned down the life of an athlete to focus on all things quack. That certainly paid off because his Duck Commander duck call company became a huge moneymaking business! Dress up as the bearded pa with just a few key choices below!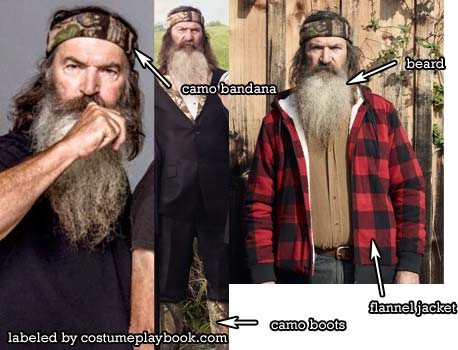 Camouflage Bandana

Phil wears a camouflage bandana, perfect for laying low while he hunts. This item offers a lot of different prints, from the standard army-like camo prints to woodland prints. Feel free to choose which you prefer so long as you keep with the shades of brown.

Phil Duck Dynasty Beard

Someone has actually released beards based on the characters of Duck Dynasty. This one is the beard for Phil!
Dress up as Si Robertson
To dress up as Phil's Vietnam war veteran brother, all you need is a cap, glasses, and a beard. Also, be sure to say "Hey!" and the word "Jack" at the end of your sentences. He is the funniest of the four in my opinion, and he's the life of the show, often the brains behind crazy decisions. Jase put it perfectly when he said "My top 10 dumbest things I've done in my life has all included Si in some way."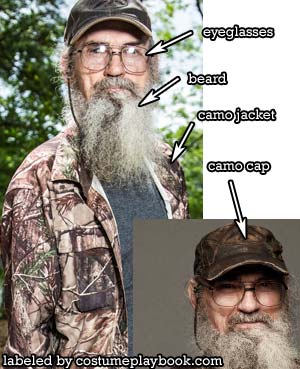 Camouflage Cap

Si wears a camouflage cap

Si Duck Dynasty Beard

This beard is colored gray / white just like Si's beard.

Vintage Style Eyeglasses

He wears eyeglasses with a thin frame like this pair

Black Eyewear Retainer

If you look closely, his eyewear is actually connected to a black cord like this retainer.

Blue Plastic Cup

As an extra funny prop, bring his trusty vintage Tupperware cup, then ask the party hosts to fill it up with iced tea. There's a very sweet story behind that cup – his mother gave it to him while he was still in Vietnam. This particular item is an official Duck Dynasty merchandise – a perfect home decor piece for the big fans out there. It even bears the logo of Duck Commander
Dress up as Willie Robertson
Willie runs the business side of the company and is the big driving force behind the success of the company.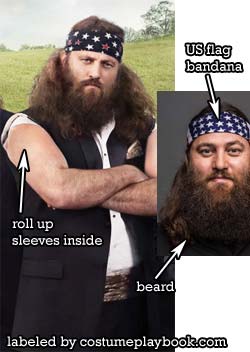 American Flag Bandana

What makes him very distinct among his bearded family members is his American flag bandana. This one is a pack containing 12 bandanas and the price is pretty affordable

Willie's Beard

This is a beard prop especially patterned after Willie
Dress up as Jase Robertson
The mischievous Jase always manages to rile up his brother, Willie, which is pretty entertaining to watch. He takes after Si I guess.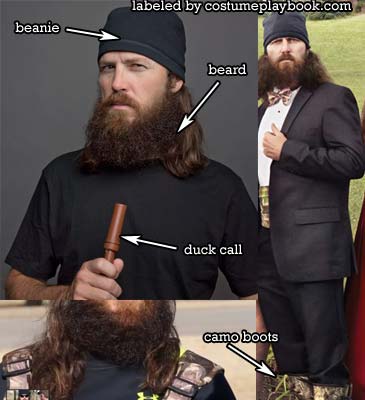 Black Beanie

The laidback mischief maker is a champion frog hunter and has spoken some pretty funny things in the show

Beard

This is a prop beard + mustache based on Jase from Duck Dynasty

Duck Commander Duck Call

Jase helps manufacture the duck calls by hand, so bringing one as a prop would be a great additional touch