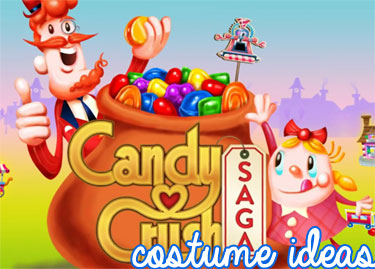 Candy Crush Saga. It's a legend alright! Since March 2013, it has surpassed Farmville 2 as the most popular game on Facebook! To attest to that, I get at least 1 Candy Crush request every day on my account AND my parents are obsessed with it too. The game has really captured the interest (and obsession) of many players worldwide so what could be a cooler costume this year than a costume straight out of the sweetest game ever?
Candy Props
You might want to consider bringing a bag of candies with you – the same candies you see in the game. The candies featured are: red jelly beans, yellow lemon drops, orange lozenges, green square candies, blue Charms candy sour balls (or the head of a lollipop), and purple Flower Sweet Tarts Candy
Dress up as Main Gal, Tiffi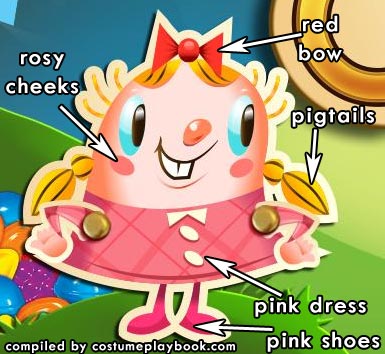 In the game, you are the ever adorable little girl, known as Tiffi. Blonde pigtails, rosy cheeks, toothy smile, red hair bow, pink dress, pink shoes. She's the poster child for the sweetest game, alright!
For the rosy cheeks, all you need is some pink blush makeup. The other items you need are below.
Red Hair Bow

What could be sweeter than a candy red bow on your hair?

Blonde Pigtails (Wig)

Look just like Tiffi with these blonde pigtails

Pink Long Sleeved Dress

Ideally, wear a long-sleeved pink dress for a more youthful look. Remove the belt that comes with this

Pink Flats

Get a pair of pink flats for that cute kiddie look
Dress up as Mr. Toffee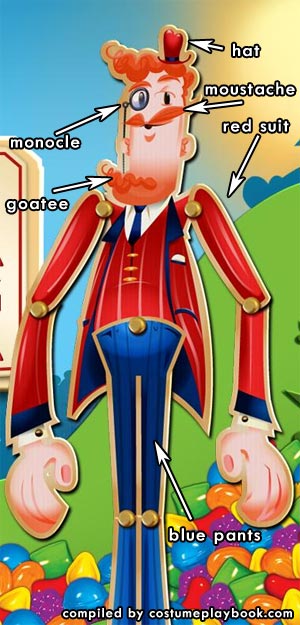 Mr. Toffee is a gentleman's gentleman. 3-piece suit. Monocle. And the piece de resistance – a mustache. Divine!
Steampunk Mini Brown Bowler Hat

In the game, you can see that Mr. Toffee's bowler hat is smaller than his head. This mini bowler hat is perfect for that!

Adult Bowler Brown Hat

If you prefer a full-sized hat, this one will do the job quite nicely.

Orange Moustache

No gentleman is complete without his moustache!

Self Adhesive Set 12 Fake Mustaches Costume Party Disguise

If you'd like a variety of shapes, then you can take a look at this set. You'd need to dye it orange though to match the character's look

Costume Monocle for Adults

A moustache AND a monocle. Can this get any more perfect?

White Cotton Pocket Square with Charcoal Border

For that extra effect, add a pocket square on your suit

FLATSEVEN Mens Slim Fit Casual Premium Blazer Jacket

Mr. Toffee sports a red blazer on top of blue pinstripe pants

Men's Dress Vest and NeckTie Set

A vest is worn underneath the blazer