Akazukin ChaCha
Dress up as Chacha
Chacha's costume peg is Red Riding Hood. That is, until she calls upon her magical powers and becomes more like a Sailor Moon goddess! Find out how to don her cute ensemble below.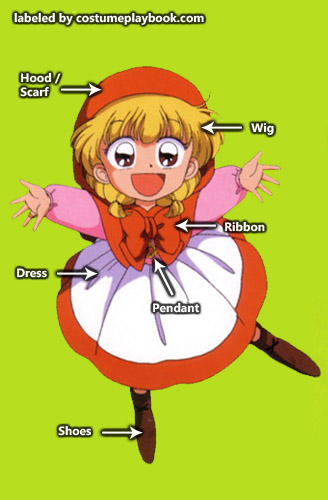 Red Riding Hood Costume Set

The most important part is her hooded cape. There are two ways to go about this – you can either buy yourself a complete Red Riding Hood costume set (like this link shows you) or you can get separate pieces (see below)

Red Riding Hood Cape

Want to piece the outfit by yourself? Then get yourself a red hooded cape like this one.

Big Red Bow

To mimic the big red bow on ChaCha's dress, buy this bow tie, which allows you to adjust the neck strap easily. You can use this for a lot of other anime ensembles in the future, that's for sure!

Pink Long Sleeve Blouse

Underneath the cape, wear something pink. This long-sleeved blouse with a loose fit should work but if you have any pink tops in your wardrobe, feel free to reuse that instead

Red Circle Skirt

For the bottom, opt for a red skirt with a nice full circle flow like this one

Half Apron

Tie a half apron over it

Brown Ankle Boots

Finish off with a nice pair of brown ankle boots!

Blonde Wig

Optional: Wear a blonde wig and make sure you tie it into short pigtails.

Heart on Wings Necklace

This is actually a Saior Moon piece, but Akazukin Cha Cha and Sailor Moon have similarities and this necklace should bring that desired look across. This is our heroine's magical necklace which allows her to transform into Magical Princess

Akazukin Cha Cha Staff

For more authenticity, you can also purchase this Akazukin Chacha staff. It's a bit pricey, but if you're a big fan, you might want to check it out!
Other Akazukin Cha Cha Characters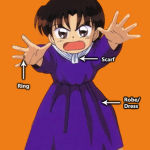 Dress up as Shiine

Dress up as Riiya