Table of Contents: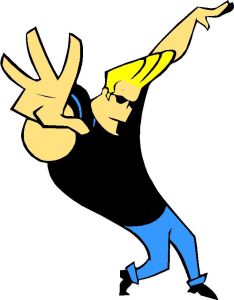 Hey there, momma! Check out my costume. I am Johnny Bravo, "Man, I'm pretty!" Time to dress up as the womanizing stud, Johnny Bravo, or his doting mother, Bunny! This could be a very hilarious mother and son costume combo
Dress up as Johnny Bravo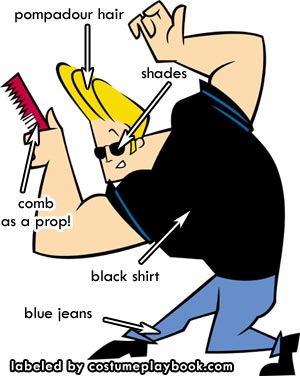 Elvis Presley Wig

The first option is to wear a pompadour hairstyle similar to Elvis Presley. It's very fitting since Johnny Bravo's voice was patterned after the king of rock and roll! You would need to dye this blonde to achieve Johnny's look

MC Poser Wig

What I like about this is how it's more spiky and going upward. You can dye this fully blonde for a more accurate do.

Black Crew Neck T-Shirt

Any black tee will do as long as it's plain, and round neck. Roll up your sleeves like Johnny does and be sure the top is tight enough to show off your chiseled muscles. Hoo ha!

Black Sunglasses

Any pair of black sunglasses should do but my guess is that Johnny was wearing a pair of aviator shades with a thin frame.
Acting like Johnny Bravo is as important as looking like one! Let this video enlighten you:
Dress up as Bunny Bravo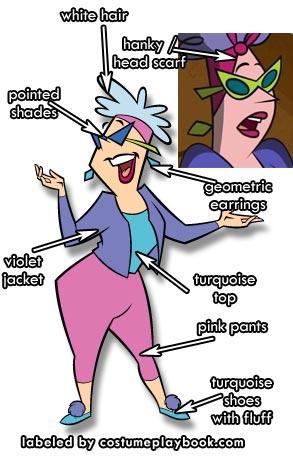 Pointed Sunglasses

These pointed frames mimic the ones that Bunny wore!

Classy Old Lady Wig

The pink handkerchief is supposed to mask Bunny's graying hair. I can imagine though that, given the fashionista that she is, her hair would be as nice and classy as this one.

Blue Triangle Earrings

Any inexpensive pair of blue geometric-shaped earrings should do the trick. This pair looks really pretty and trendy!

Violet Floral Shoe Clips

Attach this to a pair of light blue shoes for that extra level of detail. This is optional
And now: let's all do the Johnny Bravo dance! (skip to :19)